Mary Shields, Ph.D.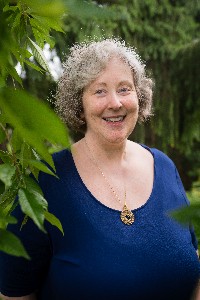 Mary Shields, Ph.D.
Adv. CBI, RMT, CBI, BAT, CBP, Parama BP, AdvCBP
Clinic
PO Box 9361

Columbus, OH 43209
USA
Phone: 614-285-7307
info@maryshieldsphd.com

Biography
Mary Shields, Ph.D.
Known as a "practitioner's practitioner," Mary brings traits of warmth and joy to her work. She works with clients who have a wide variety of physical, emotional, and spiritual concerns.
Mary brings a unique background to her practice, that of education, music, and religion. She received her A.B. from Westminster College in PA, her M.Div. from Princeton Theological Seminary, and her Ph.D. from Emory University. Previously a professor of Hebrew Bible/TaNaK, she combines a love of her academic field with a love of BodyTalk, seeing many connections between them.
After becoming a Reiki Master/Teacher, Mary began moving into healing practice. When her six-year healing odyssey from fibromyalgia ended with three BodyTalk sessions, and she took the first two modules of BodyTalk, she became convinced that BodyTalk is the most comprehensive, direct, effective, and noninvasive way to address the whole person, body, mind, emotion, spirit. She has completed the PaRama courses, currently the most advanced courses in BodyTalk, and holds the highest certification, that of Advanced BodyTalk Practitioner. She coordinates for BodyTalk and related modules in the Columbus area, is certified as a BodyTalk Access Trainer, and an Advanced Certified BodyTalk Instructor. In addition, since taking the BodyTalk for Animals course, she has been working with animals regularly. She is also participating in the Instructor ce service, and is able to offer continuing education hours for all of the courses she teaches.

As an instructor, Mary brings more than 20 years of teaching experience to her BodyTalk classes. Students remark on her clarity of presentation, her ability to make even tough concepts easy to understand, and the amount of practical, hands-on experience they get. Consistent comments include: "Her enthusiasm for BodyTalk is contagious;" and "She makes learning fun." One student writes, "Mary's teaching style is thorough, concise, patient, relaxed, and most importantly, fun! She makes sure you leave the course not only understanding the underlying concepts and theory, but retaining all the information as well. Thanks to her, I was a certified practitioner within 6 months of first taking modules 1 and 2. Mary is by far one of the best teachers I have come across." P. Jurko, CBP, Dublin, OH,
Clients tell her that they experience their appointments as sacred time and space where they can begin/continue their healing process at all levels. The majority of her practice is distance work, including clients who move from her area, who continue to work with her through distance sessions. She writes, "It is a privilege to be able to observe deep shifts in overall health, wellness, and balance in my clients."
Mary welcomes your call with questions regarding BodyTalk and upcoming seminars, to schedule an Access class, BodyTalk Fundamentals course (formerly modules 1 and 2), BodyTalk: Fundamental Integration course (formerly modules 1 and 2 Advanced Practical), BodyTalk: Principles of Consciousness (formerly module 3), or to schedule a BodyTalk session.