Heather McQueen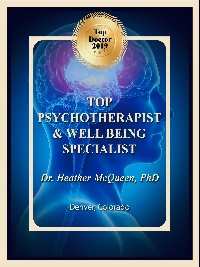 Biography
My philosophy is one of collaboration with and great respect for my clients. From the world of Western Psychotherapies, practicality, craft, and empowered expression of a fulfilling life are cultivated. From the arena of Eastern Philosophies, my approaches are infused with power, focus, creativity, and mindfulness. From the realm of healing, sessions can offer a multidimensional venue of wisdom, curative nurturing, and the awakening of inner technology and awareness while one unfolds their authentic self towards an expansive sense of well-being through increased competence, autonomy, and connection to a meaningful life.
My guiding philosophy asserts that individuals thrive when they participate fully in their own health and healing process. With a variety of techniques, the bottom line to my philosophy is that healthy growth, learning, and lasting change are best achieved when they happen in the context of honest, open, accepting, and joyful relationships. There is power within our minds and bodies to heal when given the proper tools. I earned/hold a Ph.D. in Psychology. For years, I have done research on mind, body, emotions, and spiritually integrative health and expansive well-being as relative to their roles in healing, empowerment, and embodied wellness.
I work with the broad spectrum of life circumstances, emotional, behavioral, and spiritual issues providing services that respect effective and safe healing systems and that are protective and honoring of your wellness choices. Discount Investment Packages are available to maximize the value of your investment.
Dr. McQueen is a Registered Psychotherapist as well as a Certified BodyTalk Practitioner and Licensed Black Belt Nia Instructor - Pronounced 'nee uh' (a mind, body, spirit integrative movement practice). Emotional Intelligence, WellBeing, Life Satisfaction, Happiness, and Conscious and Meaningful Life Philosophy are specific areas of interest in empowering clients.
"The privilege of a lifetime is to become who you truly are." -CG Jung