Kristine Apostol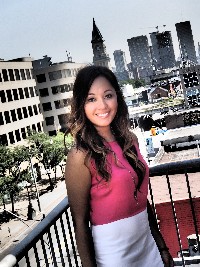 Biography
"As a Certified Life Coach & BodyTalk Practitioner, I approach each session from an Integrative and Holistic Perspective that flows seamlessly between the Therapeutic Benefits of the BodyTalk System and Classic Coaching Principles & Approaches.


No Two Sessions are alike - Always Collaborative, Dynamic, & Uniquely Personal."
Aristotle's "The Whole Is Greater Than The Sum of Its Parts" is an inspiring & powerful quote and a philosophy I apply to many aspects of my daily life. By looking at the world through this lens, it allows me to step back and appreciate the whole, our own unique masterpieces created by uniting various parts of ourselves. Life becomes filled with joy, optimism and beauty.
With that said, I'd like to share some parts of my life with you…
PROFESSIONAL | Education + Career
My practice started as a BodyTalk Practitioner in 2008 (the beginning of a life transforming journey both on a professional and personal level), Integrated Life Coaching in 2011 (because it makes sense) and currently in the process of becoming a Registered Acupuncturist (an added service to my practice).
From a young age, Science, Philosophy and Psychology were subjects that always sparked an interest within me. But of course sometimes life doesn't always take on a straight path. And my professional career certainly took on a different road which started in the hospitality industry where my business background and creative skills & training in videographics contributed to a successful career accelerated with annual promotions, quarterly bonuses and a prestigous recognition from the Ontario Hostelry Institute as Top 30 Under 30 in 2007. I developed successful client relationships, lifelong friendships with colleagues and it was in this life path where I met my husband. But my deep sense of curiosity and desire to understand & learn more about health, science and the metaphysics of life is what really inspired me to start my own health and wellness business practice in 2008 -- the moment where I took a leap of faith + deep trust within to integrate my passions, skills, training and life experiences into a business of service.
Since then, I am grateful for all the teachers and mentors in my life. They all helped carve a path of success in more ways than I expected - especially BodyTalk Founder, Dr. John Veltheim - whose art for breaking down complex subjects into simple form & techniques is brilliant and amazing. And Dr. Katrin, RAc & Dr. Diane Chung, ND, (Both PaRama 2 BodyTalk Practitioners) – whose kindness, strength and kickass talents continue to inspire and motivate me, personally and professionally.
Professionally, as a Life Coach I like to offer my clients more than just the ability to achieve their goal(s) in life - their health and wellness go hand and hand with it. And so my desire to offer a practice that integrates life goals + health is what my practice is all about. My studies in BodyTalk include Fundamentals; Principles of Consciousness; BioDynamics, Macrocosmic BodyMind; Matrix Dynamics, BodyTalk Orthopedic Evaluation, Mindscape, Finding Health: Mapping the Healing Process, CDRRII and Soul's Journey: Exploring the Mind and the 3 Brains. Continuing Education is an important and valuable part of my career. Along with BodyTalk courses, I am also in the process of becoming a Registered Acupuncturist. (Acupuncture Service will be offered soon).


PERSONAL | Health & Wellness + Family + Social
Fun 5K runs, playing with my kids, yoga, meditation, dancing, golf and softball are just some of the activities I engage in to refresh and re-energize. These along with other Self Care practices help me live a balanced lifestyle where I can feel more productive, vibrant, mentally clear, physically strong and socially connected.
My first BodyTalk experience was back in 2004, when life stresses took a toll on my physical body and manifested in aggravating back aches and neck pain. After only 2 sessions my symptoms disappeared, stress levels decreased and my passion for life sciences was re-ignited. My excitement to share the benefits of BodyTalk continued as I practiced on friends and family at the beginning of my career and it was incredible to see results and witness shifts and changes in their health and well-being. Since then BodyTalk sessions have become a natural part of my self care habits and of course have become an invaluable part of my family's overall health and personal growth. It's contributed to shortening recovery time and faster healing process from injuries, surgeries, and illnesses. Even during both pregnancies, I received BodyTalk prenatal sessions to boost energy levels, prepare for all stages of pregnancy and ease some of the discomforts that come with the pregnancy experience. Having postnatal sessions was also a big factor to my speedy recovery.


I'm passionate about my Life Coaching & BodyTalk practice, it is the platform where I can use the knowledge, training and experiences in my journey to help others embrace their own. Because I truly believe that life is greater than the sum of its parts.