Kristine Apostol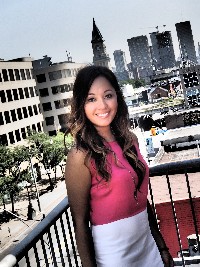 Biography
My integrative approach to coaching and wellness started over 10 years ago with the BodyTalk System, a truly life-transforming moment both personally and professionally.
As a Registered Acupuncturist (R.Ac.), Certified Life Coach and Bodytalk Practitioner, I offer a process that flows seamlessly between the therapeutic benefits of Acupuncture, WholeHealthcare BodyTalk System™ and Classic Coaching principles and approaches. You'll receive the ideal custom blend of modalities guided by your innate wisdom for optimal health and vibrant living. Whether it be Life Coaching, Acupuncture, BodyTalk or a combination of treatments, my goal is to optimize your health and maximize your full potential.

I offer a one of a kind service that integrates BodyMind balancing techniques in my life coaching sessions. I genuinely believe that life is here for us and not against us, and that our body is our greatest ally when it comes to being a better version of ourself – whether it be with our health, careers, and/or relationships because it's all connected. I help enrich client lives by collaboratively working with each individual & empowering them to be their advocate for their well-being through education, communication and offering a variety of treatments that best fit their unique BodyMind needs.

I have taken a variety of advance level courses in BodyTalk and Acupuncture therapy and I continue to seek and learn natural & innovative ways to promote well-being & empowerment because I truly believe that life is greater than the sum of its parts. As a Registered Acupuncturist in good standing with the CTCMPAO and an honours graduate at Acupuncture Integrative Medicine (AIM) Academy, I am professionally trained to use a variety of Traditional Chinese Medicine therapies which includes Acupuncture, Acupressure, Cupping, Guasha, Tuina, Moxibustion as well as Eastern Nutrition & Lifestyle Counselling. My training and education in BodyTalk include Finding Health: Mapping the Healing Process, BodyTalk Fundamentals; Principles of Consciousness; BioDynamics, Macrocosmic BodyMind; Matrix Dynamics, BodyTalk Orthopedic Evaluation, Mindscape, Soul's Journey - Exploring the mind and 3 Brains, Eastern Medicine, 5 Elements Acupuncture and currently enrolled in PaRama Courses. I have also had the privilege of being mentored by Dr Diane Chung, Naturopathic Doctor, and PaRama BodyTalk Practitioner. In essence, what this means is that I will provide you with my very best by using all the tools I have at my disposal. Ultimately giving you the opportunity, space and place that allows you to be "your best self", thriving, growing and living life joyously, with meaning & purpose.

Time and time again, I continue to see clients optimize their health & well-being simply by helping them understand the connection between their health, or lack of it, and their present lifestyle, habits, decisions and/or environment. I understand the challenges that can arise with change and striving for better, and I'm here to say that you don't have to do it alone. I'm here to offer you my support so you can define success in your terms.

So, if you're ready to take your health and life to the next level + create wellness from the inside out, I invite you to connect with me and I would love to work with you. You bring your willingness and commitment to create your best self and I promise to use the knowledge, training and experiences in my journey to help you embrace your own.