Kristine Apostol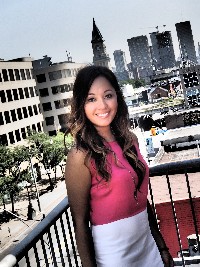 Biography
I'm

a registered acupuncturist, certified life coach &

bodytalk

practitioner

by trade

.

An optimistic, passionate, intuitive, cheerful visionary

by heart.




And a samurai warrior

by choice

– loyal to helping people thrive and well trained + highly skilled to cut through the BS like a sword by honouring one's health and best interest at all times.
I've been in practice as a life coach and a BodyTalk practitioner for almost 10 years and I recently graduated with Honours at Acupuncture Integrative Medicine (AIM) Academy, with a special interest in women's health. I have a natural skill for organizing and a flair for looking at things differently, perhaps it's the Aquarian in me that finds joy & connection between the obvious and the not-so-obvious – the inner subtleties that play a part in the whole. Whether it's one-on-one sessions or group workshops, I enjoy working with people who are willing to be an active participant in their health and ready to embrace their full potential. I continue to seek and learn natural and innovative ways to promote well-being & empowerment because I truly believe that life is greater than the sum of its parts.
My integrative approach to coaching and wellness started with the BodyTalk System – a state-of-the-art approach to integrative mind/body medicine that combines Western medicine's scientifically supported research in fields such as neuroscience, epigenetics, and psychoneuroimmunology along with a large number of highly recognized ancient and modern healing methods and principles of knowledge, such as Traditional Chinese Medicine and Acupuncture, yoga and meditation philosophies, Chiropractic, consciousness studies and Energy Psychology. As a Registered Acupuncturist, I am trained in Traditional Chinese Medicine diagnosis and modalities such as acupuncture, cupping, guasha, moxibustion, auricular acupuncture, eastern nutrition and lifestyle counselling.
My passion for helping others thrive authentically is what led me to this fulfilling career path. I genuinely believe that life is here for us and not against us, and that our body is our greatest ally when it comes to being a better version of ourself – whether it be with our health, careers, and/or relationships because it's all connected. I believe that hard work and perseverance are necessary when it comes to growth, change and creating our best life. However, I also value the importance of self care and listening to the messages that our body signals to us.
In my experience, when mind, heart and body energies are in alignment, not only does our life goals become joyful to create and easier to manifest, our health thrives and supports us even more. This was a personal insight I gained early in my career, when my hard work and drive to succeed were rewarded with numerous promotions and accolades – but also compromised my immune system which brought on chronic neck, shoulder and back pains. Typical Western medical treatments such as pain relievers offered temporary relief to my ailments, but it wasn't until I had my first BodyTalk Session, that I started to experience real change to my health. These sessions helped me understand the connection between my health and what was going on in my life at the time, specifically the disconnect between my mind and heart. Though I was very successful in my Corporate career at the time, my heart was always interested in the fields of science and psychology for as long as I could remember. Realizing that this misalignment between my mind and heart had manifested into the physical ailments in my body, I took a leap of faith and left my successful corporate job to pursue my passion. In 2008, as I began building my healthcare practice, I was also starting a family at the same time. I understand how challenging it can be to balance day-to-day life responsibilities while striving to manifest our deepest dreams, goals & desires. The pursuit of building a meaningful & fulfilling life that is aligned with our most authentic self (what is honestly true for each of us) can be profoundly healing on many levels and joyful to experience. My willingness and courage certainly got me started, but that wasn't enough.True Self Care took courage, commitment and practice to implement but the benefits are truly irreplaceable that goes beyond the physical level of health. It is the fuel that gives energy to be, do and have the life and health we all know deep down we deserve and it is the foundation to building a joyful and purposeful life.
My choice to stay true to myself, take care of my mind & body, and the wisdom from the amazing teachers I have been lucky enough to have crossed paths with, is how I wholeheartedly define success in my life. And I'm here to say that you don't have to do it alone either. I can help you define success in your own terms. So, if you're ready to take your health and life to the next level, I invite you to connect with me and I would love to work with you. You bring your willingness and commitment to create your best life and I promise to use the knowledge, training and experiences in my journey to help you embrace your own. Let's create wellness from the inside out starting with Self Care.