Jackie Sokol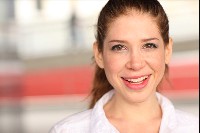 Biography
Jackie Sokol is a certified BodyTalk practitioner working in NYC. She is a member of the International BodyTalk Association and the Hands-on Trade Association. Jackie has completed BodyTalk Modules 1,2,3,4,6,7,8, 9, Advanced Practical, Mindscape, studies in Traditional Chinese Medicine, Concepts of Structural Integration, Linking Awareness, BodyTalk for Animals, and Body Ecology. She has a certification in Reiki, as well. Jackie continues to take relevant coursework to deepen her practice and remain as current as possible on the findings of consciousness-based medicine. In addition to her BodyTalk studies, Jackie holds Bachelor's of Fine Arts in Drama from New York University's prestigious Tisch School of the Arts.
Jackie's early affinity towards art, nature, and science led her to explore the connection between body and mind. Pursuing this path of interest, she first studied yoga, nutrition, and psychology before being led to energy medicine and eventually BodyTalk. Being a storyteller herself, Jackie is able to tune into each body's story and communicate what needs to be said. She is consistently amazed by the ability of BodyTalk to unravel each body's unique story. Jackie is inspired by the relationship between one's physical-emotional health and connection to deepest self.
An extremely nurturing practitioner, Jackie takes time with her clients to not only make sure they receive information, but to really listen as well. Jackie creates a compassionate, neutral space, during her sessions, contributing to an overall feeling of support and relaxation.
HERE'S WHAT CLIENTS HAVE TO SAY....
"Jackie is an incredibly intuitive and capable practitioner as well as a sincere and supportive person. There have been so many times Jackie has tapped into something key going on in my life and in my body right when I am thinking about it. In fact, during one session she randomly brought up a scar on my left foot that pushed me to go to a doctor and I ended up getting surgery on something it turns out I had needed for a while! I come out of every session feeling energized and reconnected and would recommend anybody interested in BodyTalk go to Jackie!" Nadia
Dear Jackie,
Thank you for your remarkable work. The changes that I am noticing are huge. There is a sense of peacefulness in my body and attitude toward it that I have not touched for many, many years. I really look forward to continuing our work together when I am back in the Big Apple. For the time being, I am so grateful to have had your support, kindess and wisdom at a very challenging moment. I had and exquisite and perfect last day in NYC
Much respect, warmth, and energy, J.K.
"Our last session was so powerful. I have been flooded with tears. I feel like a protective layer or filter has been lifted. I feel so much closer to my emotions, they feel so much easier to access. In turn I feel closer to others emotions and it feels good rather than overwhelming. I AM LOVING THIS PROCESS! I am so grateful for Bodytalk and so grateful for your work….our work. Thank you Jackie." Tessa
"Jackie! Thank you so much for yesterday- HUGE difference today and I don't know what I'd do without you! X" N.J.
"Our session the other day was such a beautiful moment in my life. You are so gifted at what you do." Denise
"Just to let you know I felt so much better after I left you. Still do. My energy feels right and I can walk around without the fatigue. Thank you!!! I'm also happy!" Carolyn
"I dont want to bother you during weekend but I will to just say THANK YOU. Thank you, as i was able to sleep very well last night- makes all the difference and thank you for creating a safe place of healing- I look forward to our next session – much love" – J.T.
"Seriously, seriously amazing!" Emily V.
"If you haven't experienced BodyTalk, you're missing out! Seriously changed my life." – Erika O.
"Jackie's gentle way of being led to an amazing session. I was amazed at how much information she retrieved to help me work through my own blocks. Thank you." Alexandra
"Thanks for thinking of Gaucho. He is doing very well. After your treatment he was very different. The most noticeable change was he seemed more grounded and solid. When I walked him he was less nervous and more aware of his surroundings. At lot of his fear was not there anymore. He is still terrified of loud noises especially trucks but it seems to be a bit less.
This week I noticed a huge change in him. He has so much more energy and gets out of bed the minute I do which was never the case. The biggest and best (!) thing is that he is walking down all of the stairs by himself!!!!!
I am letting him run and play off lease in the park so he can build up his back legs.
Thanks for the work you have done with him." – A.G. Brooklyn