Myriam Machado Baker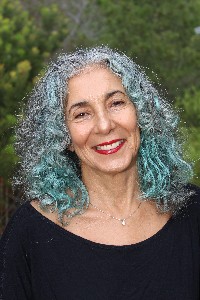 Mrs. Myriam Machado Baker
CBP
Clinic
124 Seeman Dr.
San Diego (Encinitas)
San Diego, CA 92024
USA
Biography
Practicing and teaching yoga and meditation regularly for more than 35 years, Myriam has a degree in Teaching and post-graduate studies in Physical Therapy. Her teaching career has started with teaching therapeutics yoga classes, meditation and Anatomy and Physiology workshops.
When she decided to work with a healing therapy, Myriam was looking for something scientific and therefore spiritual. She really believes that spirituality is behind every activity in our lives.
"It is through your body that you realize you are a spark of the infinite."B.K.S.Yengar
Myriam also believes that health is a state of balance and quality of communication that takes place within and between ourselves, others and the environment, and that life is not supposed to be a journey from one dis-ease to another. Life is beautiful, full of opportunities to learn about our unlimited power.
She is practicing and studying The BodyTalk System™ since 2001. After more than 18 years of regular practice and studies Myriam's BodyTalk practice incorporates techniques from all of the Advanced Modules, all Life Sciences, Epigenetics and PaRama.
She loves cooking for the family and very much enjoys being a "Brazilian" grandmother of 3.
She sees patients with a wide range of concerns 4 days a week at her studio in Encinitas, San Diego, CA and she also offer non-local sessions.
She loves to work with both adults, children and animals. Myriam has been working with entire families.
Myriam's BodyTalk treatments reflect the 20+ years of experience, practicing The BodyTalk System. The treatments express her extended therapeutics background and 35 + years of intense spiritual practice in combination with the multidisciplinary and intuitive approach of Advanced Physiology, Quantum Physics and Epigenetics.
To schedule a treatment please call (760) 5250883
or email at wellness@myriammachadobaker.com