Jean Menges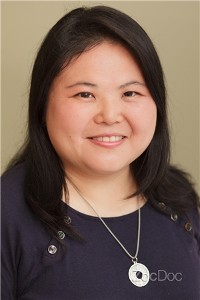 Biography
Jean Chuang Menges is a national board licensed acupuncturist, Chinese herbalist, BioGeometry practitioner practicing in Midtown West Manhattan, New York City. She is an Advanced Certified and PaRama BodyTalk practitioner. Jean is a seasoned healthcare provider with an extensive science and medicine background, specializing in pain management, allergies and intolerance, autoimmune conditions, women's health, and post-traumatic stress.
In 2002, Jean was introduced to the BodyTalk System by a colleague at the former St. Vincent Hospital's Integrative Stress Management Program. After receiving a few BodyTalk sessions, she decided to take the fundamental and advanced courses in BodyTalk. Jean's experience in BodyTalk has revolutionized her medical practice to working with her clients by respecting their body's innate intelligence and priority of healing sequence.
Most of Jean's BodyTalk clients are open minded and motivated to heal on many levels. They seek her for BodyTalk sessions in order to have an integrative and holistic perspective to their own physical, emotional and mental healing. Jean's training and experiences in various fields of conventional and alternative therapies allows her to support her clients through their healthcare needs and personal development.
Jean holds bachelor's degrees in biology and medical technology from Case Western Reserve University and master's degree in acupuncture and oriental medicine from South Baylo University. Prior to practicing in alternative medicine, Jean was a research assistant at the University Hospitals of Cleveland, performing molecular genetic studies on hospital superbug infections. She is also a graduate of the food therapy program from the Natural Gourmet Institute of Health and Healing.
Jean is the founder of NY Center For Healing, an integrative medicine wellness center, and an official retailer of BioGeometry.
As a mother of two primary school children, Jean's husband is a Jazz musician and trumpet teacher. She enjoys cooking, gardening, hiking, camping, biking, scuba diving and studying Buddhism.
CLIENT TESTIMONIALS


"I woke up this morning after the most frustrating dream I've ever had. It was so frustrating that I was crying in my dream. Not sure I've ever done that before!!
I felt sure it was the deep work we did yesterday. The frustration was processing out of my system from such a deep level. So wonderful to have that cleared out.
I feel more possibilities on the horizon and am feeling excited about moving deeper into manifesting my dreams. I also feel very happy to let my kids know how precious they are to me - unconditionally. There is an opening there.
My SI joints feel 99% better too!!" - Carol, BodyTalk Practitioner
"I come from a family that believes a great deal in alternative medicine. BodyTalk (biofeedback) is a life changing experience. When I go for my appointments, she will read my body and tell me what the body is asking for. She doesn't dictate, but goes with the body. She listens to my needs, is compassionate and makes my jaw drop at some of the things we discovered together; things she tells me that she never would have known, like situations that happened as a child. She was able to identify things from my past, energy & emotions that I would never have associated with health issues I had now, and bring a new energy to them; redirect them. Jean was also able to pick up on my sons energy and our connection to assist in his healing, as well as connecting with a long line of influences in my life that contribute to who I am today.

Her practices can reverse damage done: allergies, digestive issues, skin rashes, stress, overloads of too many electronic devices being bounced off your own bodies energy that compete with your nervous system, etc. In a battle with health issues due to mold related issues and extreme stress, where 8 specialists had no idea what was wrong, when we finally found our and regular doctors couldn't cure me. She, along with my biochemist, had been a HUGE contributing factor to my healing process and I don't know here I would be without her. Alternative medicine is not a band aid. She doesn't want you to have to keep coming back; she wants to help heal you and your body from the inside out." - Veronica, International Beauty Show Sale Executive


"I was diagnosed with colon cancer a couple of months ago. I started the radiation and chemotherapy treatment soon after my diagnosis. Since I believe in holistic medicine, I also did Reiki and other modalities in conjunction with the conventional treatment. Jean Menges suggested I try the Body Talk to aid in my healing, even though I did not know what BodyTalk was about, I jumped at the opportunity to try it. I was very impressed at Jean's profound knowledge of the cells and the body as well as her intuitive guidance. Body talk has helped me immensely, giving me insights by way of consciousness and physically made me feel better by repairing cells and raising my vibrational frequency. My doctor was very impressed by my results and the way I was looking and feeling. I told him about BodyTalk and he was very interested. I am now telling everyone about this wonderful healing modality that I experienced because it was a big part of my healing. Jean Menges is a precious gem and I feel blessed to have met her." - Christine, Preschool Director and Reiki Master


"When I think of my BodyTalk experience with Jean Menges, the first word that comes to mind is "Wow!" After that, I am speechless. There are no other words to describe this miraculous, draw-dropping process of enlightenment and self-discovery. I have explored countless methods of healing and self-improvement and, from my view, this one stands out as one of the best!??I cannot express my gratitude toward Jean. Her commitment to healing is unparalleled and profoundly inspiring. She was the light that allowed me to find new possibility and strength in myself. I couldn't have done it without her!" - Certified Health Counselor and Entrepreneur


"Words can't do justice to the amazing healing power of the BodyTalk treatment. I had heard positive things about BodyTalk from a friend a few years ago and went to Wisdom House for BodyTalk more out of curiosity than in search of assistance with a specific ailment. Turns out it was just what I've needed! I'd been making my way through the aftermath of a really tough period - 9/11, the loss of both my parents, a profound career transition, my arrival at middle age. Jean's deep listening and gentle care have opened up a new channel of vitality that I had hoped was in me but just couldn't connect to. I feel renewed, healthy, and ready to have a rip-roaring - and long - second half of my life!" - Very Happy Mid-Lifer


"I had the opportunity to work with Jean earlier this year to address many of the underlying root cause to my hormonal imbalance and other chronic health concerns. I was not sure what I was getting into at first but once the work began it allowed me to tap into my body on a deeper level. This uncovered many of the reasons I kept getting sick despite having a great eating well and exercise regimen. I believe it came at the right time as I was desperately searching for answers and an opportunity to build on the healing process. The BodyTalk work gave me the capability to let go of unwanted energy and illness to move forward in becoming a healthier person. I would recommend anyone to Jean as she maintains a professional yet harmonious atmosphere allows anyone with any personal belief system to visit her without the fear of being violated. Thank you once again Jean for the amazing service." - Culinary Chef and Educator