Sandy Wolf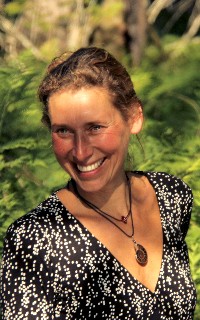 Biography
Since my childhood I visited many countries, explored diverse cultures and lived various lifestyles, being on a quest (although often unbeknownst to me) to expand my awareness and to seek the song of my heart…I learned many ways of all that is...

I learned that each of us has their own gift to give
I learned to dream and to dream big
I learned that the trees, plants and flowers encourage us to evolve emotionally and spiritually
I learned that motherhood is sacred
I learned that the children hold the wisdom to reveal the inner divinity within each of us
I learned that the animals carry the knowledge to bring us to oneness...and that they are the liaison of our children and are able to give these beautiful souls the space to speak their voices.
My passion to share and expand my knowledge to live in harmony within the body mind has led me to the BodyTalk System. After receiving only one session I was completely taken by its immediate effects and the incredible shifts in my perspectives of the world and my life (and I was taken by the realization that the more I learned, the less I knew).
To me, BodyTalk is a portal to access the essence of my everyday life, my adventures and journeys and a portal to see other worlds and dimensions…
It is a place where the children live naturally and where the animals live authentically...
It is a place in which I as a practitioner hold the sacred space and energy to connect to our forgotten innate wisdom in which the body mind can re establish its natural dynamic communication system at a physical, emotional and spiritual level -at its own pace and in its own sequence.
I am a certified BodyTalk practitioner and am pursuing my studies at the advanced level. I have completed Principles of Consciousness, Macrocosmic BodyMind, Bio-Dynamics, Matrix Dynamics, BodyTalk Structural Integration Concepts,and BodyTalk for Animals. I also work with Mindscape, which enables me to connect on a deeper level. Other healing modalities I work with are Linking Awareness Intercellular Communication, as well as 'The Book of Fay' which shows our integral part of earth, water, fire, air and space through the phenomenal photographs of Monique Fay as powerful gateways to access our inner nature.
I love working with BodyTalk and feel honored to facilitate the communication with the innate wisdom of the body during hands-on or remote sessions, which are equally as potent. I find every session with my clients (plants, animals, children and adults) very rewarding and I am every time amazed by the profound results and feedback. Each session is different and each session shows me again and again how unique we all are.
My fascination and enthusiasm for life continues to grow and through BodyTalk the body mind can communicate the many messages from the animals, the children, planet earth and the universe into a language for all of us to understand -to be able to see our interconnectedness, to understand that we live on a beautiful planet, and to understand that our stressful experiences are not personal, but for us to work through and to resolve so we can enjoy a beautiful life and live in peace, love and oneness…
The best way to reach me is via e-mail. Currently I am practicing in both Penticton and Armstrong, the beautiful Okanagan, British Columbia.
E-mail: sandyversteegh@gmail.com