Sharon Permack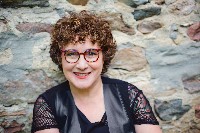 Biography
I am passionate about promoting health and wellness. I am dedicated to helping my client, of all ages, find balance in their body, mind and spirit which in turn leads to healthier, happier and more expansive lives.
My clients are very important to me. As a practitioner I offer a calm sense of presence and a caring, honest, creative and intuitive nature. My clients experience feeling supported, cared for, encouraged, honoured and safe. They report improvements in their symptoms, feeling uplifted, calm and a sense of relief from the stress they are experiencing. Clients feel empowered when they feel more connected to their health and their energy is flowing.
I work with a broad range of clients. I am experienced in providing support for health issues and life challenges. I work with clients with a variety of body, mind and spiritual concerns. I faced my own serious health issues and know first hand the challenges and gifts of healing. I am dedicated to my own healing and bringing my experience, knowledge and expansiveness to others.
Pairing BodyTalk with my experience, knowledge and care I take the variety of clients I work with to new levels of health.
To book your appointment or learn more about how BodyTalk can help you please contact me for a free 30 minute consultation.
Inner Balance for Health
416-726-4441
sharon@innerbalanceforhealth.com
www.innerbalanceforhealth.com