Rosena Hallenbeck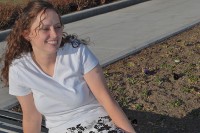 Mrs. Rosena Hallenbeck
B.A., HHP,, CBP, Parama BP
Clinic
Call for details

Russellville, AR 72802
USA
Phone: 8013727079
rosenahallenbeck@gmail.com

Biography
I started my BodyTalk journey as a skeptic. After all, it was everyone else who had problems, not me. Several members of my family received sessions periodically, and one of my sisters even started practicing BodyTalk. Because I lived away at the time I didn't really 'get it.' It just seemed too strange, and while I wasn't antagonistic, I just wasn't really interested. After I moved back home in 2008 I decided to humor my sister and give BodyTalk a try. After just a few sessions I was hooked! I didn't realize how well I didn't feel until I felt better. After seeing and feeling BodyTalk work for me and people close to me, my skepticism quickly turned to respect and admiration for the system and the process.
I knew I wanted to learn more someday, and that someday came much sooner than I anticipated. I took my first set of seminar classes in June 2010 and haven't looked back.
I have taken BodyTalk: Fundamentals 1&2, Principles of Consciousness, Biodynamics, Lymphatic Drainage and Applied A&P, Macrocosmic BodyMind, Matrix Dynamics, PaRama Unit 1 DVD and Practical, and PaRama Unit 2 DVD and Practical, BodyTalk for Plants, BodyEcology, and Mindscape.
In addition to BodyTalk, I studied holistic healthcare at the American College of Healthcare Sciences (see www.achs.edu for more information), with the intention to expand my practice to include aromatherapy, holistic nutrition, life coaching, and herbal supplements as appropriate.


I never thought I would be led down this path, but now that I'm here, I can't imagine being anywhere else.

I am blessed with an unfailingly supportive husband and two darling daughters and a dog, who all love BodyTalk almost as much as I do!