Roberta Meilleur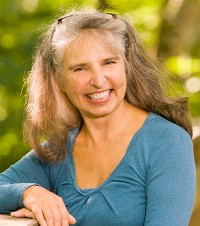 Biography
Roberta Meilleur, CBP, Parama BP
BodyTalk was the logical next step for movement coach and natural dancer Roberta Meilleur. After 30 years assisting thousands to move more freely, naturally and joyfully through workshops, classes, one-to-one sessions and her book "World Dance: A Joyful Path to Free Movement and Personal Growth", Roberta knew that bodies 'talked'. So she was delighted to discover the truly wholistic balancing of BodyTalk that allows each person's body to direct its own healing and personal growth.


BodyTalk has freed Roberta from negative relationship and body-image patterns, relieved muscular problems, eliminated Mexican intestinal 'hitchhikers' and balanced life-long digestive issues – to name a few corrections. Her clients have also experienced life-changing benefits and remarkable results with physical, emotional and mental issues. One client no longer has Lupus, another's anxieties have dissolved, chronic pain has disappeared, depression lifted, life-long migraines gone and babies born to 'unfertile' women. "I'm feeling better and better" is a common response to her follow-up calls.

A Certified BodyTalk Practitioner since 2004 and committed to on-going training, Roberta has completed BodyTalk: Fundamentals, Principles of Consciousness, Bio dynamics, Macrocosmic BodyMind, Matrix Dynamics, Parama Unit 1, Parama Unit 1 Practical, Chinese Medicine for BodyTalkers, Structural Integration for BodyTalkers, BodyTalk for Animals, BodyTalk Access, Mindscape, Freefall, Eastern Medicine, BodyEcology and Finding Health 1 and 2. Roberta's particularly excited to have added Epigenetics for BodyTalkers to her tool box with powerful results for unlocking stuck patterns and illnesses. She's pleased to offer this amazing health modality in the Comox Valley on Vancouver Island, BC.

Roberta regularly offers Free BodyTalk Presentations to inform the public and clients about BodyTalk, how it works and how it can benefit you, your family, your community and the world.