Shawna Peters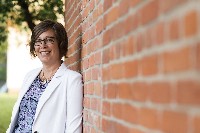 Shawna Peters
M.A. Trailblazing Communications Practitioner, BAT, CBP
Clinic
please call for details

Playa Flamingo, Guanacaste
Costa Rica
Phone: (506) 8351 0880
librophile@inbox.lv
theshelteringyew.com
Biography
When a plant's leaves are turning brown
you don't paint the leaves green.
You look at the cause of the problem.
If only we treated our bodies the same way.
Dr. Frank Lipman
I have used natural health methods for over ten years now, however, several years ago, I became quite ill. If I walked more than a few minutes, my muscles would seize the next day, I was exhausted and had a lot of body pain and anxiety. I didn't sleep much and was taking several types of medication. None of the modalities I had tried in the past had any effect on my condition.
My natural health practitioner suggested BodyTalk and change began slowly, but immediately. Including a full recovery from the weakness, anxiety, insomnia and fatigue, BodyTalk has also helped me get off of thyroid medication. Winter blues and weather shifts no longer affect me.
Tying in my background in counselling with what I have learned through the BodyTalk system has been amazing for myself and my clients to find real and lasting change. BodyTalk connects the mind and body in a way that is gentle and safe for it to heal and release without re-harming itself. I am now focussing on working with issues of trauma and bonding around adoption and issues of trauma affecting spirituality.
I am constantly amazed at how the body works for our best good, all the time.
Classes Taken
Principles of Consciousness
BioDynamics
Lymphatic Drainage and Applied A&P
Macrocosmic BodyMind
Matrix Dynamics
BodyTalk Fascial Energetics Level 1
FreeFall 1
BodyTalk:Advanced Integration
Energetics
Practitioner's Reflex
Fascial Balancing 1
Testimonials from clients
"Towards the end of my pregnancy, I was experiencing a great deal of hip pain, as well as feeling that I needed some care in preparation for the birth. One session reduced my pain by 80% in minutes and the birth went smoothly. Shawna also addressed some issues for breastfeeding which allowed that process to be natural and easy."
"BodyTalk has helped me move past my depression. It was wonderful!"
"I used to feel like people were always pushing my buttons. It made me angry and tense a lot. Now I just feel like I have less buttons to be pushed! I feel happy so much of the time now."