Wendy Marie Wagner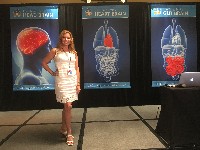 Wendy Marie Wagner
BA, RMT, CBP, Parama BP, AdvCBP
Clinic
9907 -98 Avenue
Zen Spa
Peace River, AB
Canada
Phone: 780-624-2936 (BZEN)
peacezenspa@hotmail.com

Biography
My name is Wendy Marie Wagner, and I live in Peace River, a small town in Northern Alberta, Canada. I feel honoured to be able to provide my clients with this wonderful service and to introduce them to a way of experiencing a shift in their health paradigm!
In February, 2009, I was able to coordinate our very first BodyTalk Access course, instructed by Taylor Wideman from St. Albert, Alberta. It was a huge success as people here are beginning to see the potential of learning this fascinating and helpful system. Since then she has taught Modules 1 & 2 and I have also brought David Korchinski here to teach Mindscape.
I am a registered massage therapist, esthetician, and also do Asian massage like Thai, as well as aspects of Tuina and Tao Shiatsu, which focus more on energy systems than anatomy. I also have my B.A., majoring in Applied Social Science with electives in Eastern religions. I spent over two years in Asia, particularly in South Korea and India.
I first discovered BodyTalk in September 2004 at a massage conference in Calgary, Alberta. It resonated strongly with me and I knew this was the energy medicine modality I needed to learn!
I am truly passionate about BodyTalk because it is a system that addresses all levels of a person, so I see it as a truly wholistic system. It also works with any other modality the client may be receiving.
In May, 2011, I passed my examinations to become an Advanced Certified BodyTalk practitioner. The courses I have completed to date include:
Modules 1,2,3,4,5,6,7,9
Right Brain Practical
Mindscape
Breakthrough 1 & 2, Breakthrough 1 Practical and Steps Intensive
Chinese Medicine for BodyTalk
Orthopedic Evaluation
Family Systems Evaluation
Finding Health 1& Treatments Intensive
Finding Syzygy
PaRama Unit 1 and Practical
PaRama Unit 2 and Practical
Advanced Modules Integration
Freefall 1 & 2
The Three Brains and the Soul's Journey
In January, 2010, my boyfriend and I were fortunate enough to attend a sacred pilgrimmage to South India, led by quantum physicist, Dr. Amit Goswami, and his wife, yoga psychologist, Dr. Uma Krishnamurthy. This was a truly amazing trip and the effects of which trickle into my work with BodyTalk as well as into my own being.
In 2019, I am completing a coaching certification in Sex, Love and Relationships through the Tantric Institute of Integrated Sexuality.
I live with my boyfriend overlooking the beautiful Peace River valley. I also paint, meditate, do yoga, and study massage, BodyTalk, spiritual and quantum physics related material in my free time. We are owners and creators of Zen Spa & Hair Studio, located in downtown Peace River, where I also hold once a week group meditation sits. Feel free to call or email me for more information or to set up an appointment. For those who are interested in a session and live out of town, I do distance sessions as well. Namaste!