Lotara James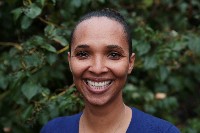 Lotara James
CBP
Clinic
Golden Folk Wellness
4900 York Blvd
Los Angeles, CA 90042
USA
Biography
For as long as I can remember, I have been fascinated by the human body and intuitively believed in its inherent capacities to heal and regenerate. As a young person I was fortunate enough to experience a wide variety of disciplines in Alternative Medicine which focused on the whole person, not just the symptoms. I found, however, that most modalities took many sessions to bring about relief, if at all. In considering my healing needs as an adult, I was searching for something new and revolutionary in its ability to bring about efficient and effective healing at the root causal level. I knew there was something else I had yet to find.
Two weeks prior to September 11, 2001, I transferred to a University in New York City. Six weeks later, I returned home to California, unaware of how deeply I had been affected by my proximity to and experience of that event. I spent the next 11 years trying to determine what had caused my increasing list of health issues in both mind and body, which included chronic disabling pain, anxiety, depression, debilitating sinus infections as well as thyroid and adrenal imbalances. My search shifted when I came across a book on trauma and saw that all of the symptoms I'd been treating individually were addressed under the umbrella of long-term untreated PTSD. I was so relieved to finally have an answer that made sense! After that breakthrough, I searched for a form of somatic healing that might result in the ability to live a full, vibrant life and one that did not require the continued retelling of my story in order to shift the energy that was keeping my body-mind in a state of heightened stress.
I was introduced to and began the study of the BodyTalk System in early 2013 and became a Certified Practitioner in early 2015. BodyTalk resonates with my understanding of the body's ability to heal itself, and the idea that, in truth, we are Consciousness; that we exist both as, and within, a self-correcting, dynamic system that is always working towards a state of balance.
BodyTalk has changed my life. I am a more integrated person with a full understanding of what my body, mind, and spirit need to stay healthy in the midst of life's challenges. I have witnessed many healing miracles, in myself and in my clients. I am inspired to continue my studies into the latest scientific research surrounding quantum healing and our ever evolving consciousness and to share this gift with the world.
Testimonials
"My friend introduced me to Lotara, a remarkable woman who grew up on a devoted path. Since she recently completed intensive training in Body Talk, I felt open to experience a session.
This modality offers a new map for Healing the Body, Mind Connection. The experience encourages interactive awareness, guided by ancient teachings based on respect and compassion. Body Talk sessions with Lotara feel gentle and supportive. She encourages a new way to reconnect to the Body, Mind flow and explains all she does throughout the session. This technique gave a real boost of clarity, hope and confidence following trauma and ptsd. Her session helped clear active memories and phobias that taxed my appetite. And she felt my body's excitement as I was regaining the desire to be hungry again.
I highly recommend Body Talk sessions with Lotara."
--K.D.
"A session with Lotara is something I feel blessed and honored to have experienced. From the moment I walked into her space I felt at home. I felt safe and comfortable to take all the baggage that I walk around with off and just surrender to the present moment. Although I still don't have a full comprehension of exactly what body talk is I was able to really trust Lotara because of her extensive knowledge on the mind/body/spirit connection and because of her gentle approach to healing. During my session I felt energy moving all throughout my body. It moved to places in which stagnant energy was, and in ways I felt that it woke that energy up, and also released the energy that was no longer serving me.
What I really loved about the session was there were certain themes that came up during my session that I then saw appear in my life over the next week. The synchronicities between what came up in my session and what came up in my life afterwards were so on point, which made me feel very grounded and guided in my actions. Also after my session for the next few days I was able to feel and see (when I closed my eyes) energy currents moving from the top of my head to my feet. This experience was really special for me because I could tell that Lotara had woken up some dormant energy in me and it showed me that I have the ability to access these channels in me when I am relaxed and aware enough. Overall I'd really recommend Lotara to anyone who is looking for healing and support from someone who is extremely kind, comforting, professional, and humbly powerful."
--S.B.
"Working with Lotara in the context of Bodytalk has been such a great experience! In our sessions I found myself elevated out of many years and layers of resistance and into a much more open and loving frame of mind. Deep relaxation and family insights have been only two of the beneficial components of the treatments and her work has allowed me to see into the deeper conversation the body and the mind are always having. She's been a joy to learn from and I cannot recommend her highly enough! "
--E.G.
"I was so impressed with Lotara's sensitivity to both my physical as well as emotional / psychic state. She was right on in sensing events in both my family history and patterns in how I was raised and how that was affecting my current state. The night after the session with Lotara I went through some type of emotional detox or discharge that eventually reduced the level of fear I had been feeling. It was rather intense and I was certainly surprised that one session could have that effect. I am sure that Lotara will help many with this method of healing as she has the sensitivity and intelligence for it.
Thank you so much Lotara, I look forward to more sessions."
--V.M.
"I've had all these different kinds of healing sessions since the [Category 5 Fiji] cyclone, and what you did had the lightest touch, but went the deepest. Your treatment was a long breath of refreshment; kind of like cleaning out the closets and airing the room of body-mind."
--J.T.
"I began seeing Lotara for Bodytalk 4 years ago. I was immediately drawn to this form of body work because at the core of the work is the premise that the body has the intelligence to heal itself. Sometimes the body needs a facilitator or witnesser to offer space for that to happen. When I refer to the body, I am not only speaking about the physical material body, I am also referring to the mental body, the energetic body, the emotional body and so on. Bodytalk does not privilege one body over the other, but offers a way through its language to hold space for identifying the relationship between these bodies.
Being that I am a bodywork practitioner myself and very cerebral, I appreciate Lotara telling me about the process of the session. Sometimes bringing the process into verbal context helps me to understand what is happening for me in my healing process. And then there are some aspects of the process that I don't need to understand in the analytical part of the brain because the healing is happening regardless.
BodyTalk is a very safe and nurturing method of bodywork. Along with my spiritual practice, BodyTalk has been the most effective method of healing for me. The method offers space for my healing as an ongoing process. Lotara is an incredible BodyTalk practitioner, a healer with the utmost integrity, and I feel incredibly grateful to be able to work with her."
--R.N.
"BodyTalk was a return to listening deeply to my body and helping me set stronger boundaries with my energy."
--A.C.
"I'd like to take a minute to share about the BodyTalk session I received from Lotara James in 2015 after the Valley Fire raged through Lake County and I lost my home.
First, I'd like to thank Lotara for her compassionate generosity to have sessions with people in Lake County after the fire. I found Lotara's BodyWork treatment to be spot on in identifying not only the physical symptoms I was dealing with as a result, but also the mental and emotional aspects at play as well.
At times I have found it quite challenging to get to the roots or core of what issues I am dealing with physically and emotionally, and I found that Lotara's gift with the BodyTalk training was an exquisite tool for doing this.
Lotara's natural sensitivity and intuitiveness combined with the BodyTalk tools were able to quickly and softly get right to the issues at hand. This, as a result, brought swift healing and light to the subjects as well, and have provided continuous and ongoing understanding of the issues for further healing. Thank you, Lotara, for this gift of your healing art.
Thank you, again, for the session after the fire."
--C.S.
"Lotara is sensitive and trustworthy. Using BodyTalk
she unexpectedly helped me open to a subtler
relationship to reality, which was a valuable healing.
I look forward to the next session."
--J.N.
"The bodywork was wonderful."
--C.B.

"I didn't know what I was getting into when I tried Body talk. I had an inflamed small intestine, and I was looking for more ways that weren't allopathic related since the allopathic doctors had no solutions for me. I took a Body Talk session with Lotara. Body Talk is a very intimate experience, so it is important that you have a practitioner that makes you feel safe, and comfortable. Lotara definitely had no problem making me trust her. She was very amiable and knowledgeable. I felt comfortable immediately. I was very impressed with the muscle testing of the session. I feel like the session helped guide my intuition on what I needed to begin my healing path. I am definitely getting better and look forward to another session. Thank you Lotara."
--V.H.