Eliza Jinata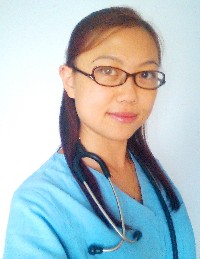 Biography
In my first years as a professional vet, I practiced mainly conventional veterinary medicine without any alternative or holistic approach. After a few years of veterinary experience I started to realize that the use of fully conventional veterinary medicine can cause an imbalance in an animal's natural health and harm their body which can lead to more diseases, some of which are incurable.
Unfortunately many pet owners and veterinarians often think they have done the right thing to keep their pets healthy by giving them supplements and drugs, but actually this can further expose them to unnecessary chemicals and even make them sicker.
The worst thing I realized next was that many vets out there are still unaware of the negative side effects of their conventional practice. They treat animals in stressful manners (which slows down healing process) and their treatment only heals physical symptoms but actually causes more stress for the pets and their owners. I used to be one of those conventional vets when I first started my career in veterinary industry. Luckily I was introduced to animal communication and BodyTalk in 2013 which changed my treatment style forever. Read more about my life-changing experience with Linking Awareness and BodyTalk here, and if you want to know what BodyTalk is from my perspective, please click here.
Nowadays when treating patients I combine veterinary medicine, animal behavior, animal communication and holistic healing to provide the best solution for the animals. Most behavioral and unresolved health issues can be resolved by a combination of those methods. Most of companion animals absorb energies from their human companions, so in order for an animal to be balanced usually the owners have to be balanced too. Needless to say, I've worked with a great deal of animals and also with people
I believe all animals are wise sentient beings and each of them have their own unique souls and characteristics. They are as important as our family members and deserve the best care possible.
Apart from doing sessions for animals, I do sessions for people too. Actually there are many health issues reflected on the pets that come from their human companions. When an animal is balanced using BodyTalk, the majority of their animal companions need balancing as well. When I first took "BodyTalk Fundamentals" in 2013 it was mainly intended for humans, but then I took an advanced class "BodyTalk for Animals" in 2014 so I could implement this modality into my career as a veterinarian.
Please visit HolizticVet.wordpress.com to book a session over Skype or email. I currently live in Bali so if you are also here we can have direct sessions.
List of classes taken in addition to BodyTalk Access and BodyTalk Access for Animals:
1. BodyTalk Fundamentals for Humans and Animals
2. Linking Awareness
3. Principles of Consciousness
4. BodyTalk for Animals
5. MindScape