Krista Hurton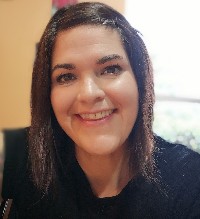 Biography
Krista has been working as a Certified BodyTalk Practitioner since 2013. She had been suffering with many symptoms of illness and was on a variety of medications to "treat" the symptoms. Eventually she went seeking, trying to find another way to heal. Krista soon found BodyTalk, and experienced her first session soon after. She was so magnetized and eager to learn more, that she went on to learn Fundamentals and eventually study all the Advanced Modules as well as completing her training to become certified as a BodyTalk Access Instructor.
Krista has completed all the Advanced Modules in the BodyTalk System, as well as Mindscape. She is currently working towards her Advanced Certification to be able to further her training to better serve her clients.
She is also a dynamic presenter and Teacher. She offers presentations on BodyTalk to help grow this unique system of Whole Healthcare within her local community and abroad.
Krista uses the Access protocol everyday for her self, to maintain her own health and well being as a means of Self care. Access has changed Krista's life in dramatic ways, and she is dedicated and passionate about sharing this self-care routine with others. She also holds monthly study groups for students of Access and Fundamentals to help deepen their understanding and is available for any questions or concerns they may have. Krista also earned a Business Management Diploma in 2007.
Krista is currently coordinating many BodyTalk courses on Vancouver Island, to help build awareness and connect people to the BodyTalk System.
She has a blooming practise in Campbell River B.C. Krista offers private sessions in her clinic space.
Krista is an intuitive and gentle facilitator. She is passionate about this work, and finds great joy in being able to help others help themselves, by learning how to live more consciously.
The Science and Philosophy of BodyTalk is the foundation for all this beautiful, awe inspiring work. It is not just another healing modality, but a way of life.
Please contact Krista to book a session or for more information.
www.innerarchitect.ca
bodytalkcr@gmail.com
(250)830-7485
Testimonial:
When I was 19, finishing high school, and I had just met the love of my life, I was suddenly pregnant at 20 and eventually gave birth to my daughter who was born a medically fragile child. She was born with no life expectancy, and we took her home on palliative care. To everyone's amazement she survived 7 years.
During these 7 years our little family grew, and we welcomed our second child whom was born healthy 5 years later. During this time, we endured many ups and downs of near death experiences with our first born. A lot of our time and energy was spent juggling family, work, in and out of hospitals, travelling to see specialists, and many rides in ambulances.
Although I would never give up any part of those 7years with our daughter, these stresses took their toll on my mind and body. Before and after the birth of our first daughter I lived with many diagnoses for over 10yrs. I had been to see Doctors for various reasons;
-PTSD
-Heartburn
-Nausea
-Panic Attacks/Anxiety
-Night terrors/ night sweats
-Depression
-Repetitive back injuries and pain
-Chronic shoulder pain
When I felt defeated I would go back in to see my Doctor and would end up with more prescriptions. The drugs never seemed to help, and in fact many times made the symptoms worse due to reactions I was having to the medications I was taking.
My symptoms all started at a level 1(not that bad), and by the time I came in for Bodytalk these symptoms were at a level 10 (really really bad!). I had been in full blown survival mode, coping and ignoring the pain in my body. I had been "pushing" through it all, just to survive. I hit my "rock bottom" after falling down a flight of cement stairs herniating my L4-L5 vertebrae.
I had gone through all the proper medical channels with my Doctor and specialists: Physiotherapy, Massage, Chiropractic, and even Spinal cortisone injections. No matter what I did nothing changed, nothing got better.
I started seeing Krista for BodyTalk 9 months ago, after feeling like I had exhausted all other options. I had been experiencing symptoms for years, trying to heal from new and old injuries that just would not get better, no matter what I tried.
I remember my first BodyTalk session. Right away I noticed a reduction in the daily anxiety and nausea I had.
By my second session my heart burn was dissipating. I didn't feel the nerve pain that made my skin feel like there were bugs crawling on it, and the muscle spasms in my legs had stopped.
Continuing sessions over the last nine months, most, if not all of the above-mentioned symptoms have gone. I am aware enough within my own mind and body now to be able to have clarity around the way I feel, and what is stressing me out. I am now able to process my Stress and emotions in a healthier way.
I find BodyTalk so effective that my whole family comes for sessions now. My 6 yr. old had suffered from night terrors for over a year, and after only one session with Krista they stopped completely. As a parent, I see the changes within our daughter immediately. She is now more aware of her body and mind and tells me when she needs a BodyTalk session.
Over all, our experience has been life changing. We no longer feel that we need to live in pain, and understand now that we have a choice. And that it has always been ours to make.
Sara