Courtney Slobogian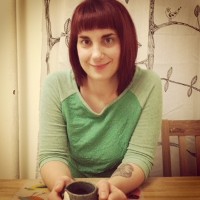 Biography
Courtney's favorite principles of BodyTalk (or at least a few of them):
- No diagnosis and no prescribing

-You can do no harm (unlike many therapy and counseling models)
-BodyTalk brings each person into a deeper relationship with their body- which is a site of so much pain and despair for so many of us (women especially!)

-Each person is the expert of their own life and each individual possesses the innate wisdom and capacity needed to transform and heal themselves.
Courtney feels honored and humbled in the role of BodyTalk Practitioner, as she has the privilege of accompanying and supporting people on their journey to recovery and health. She approaches all of her work from a trauma informed perspective, meaning that she understands the reality of working through trauma and how it is stored in our bodies. There are many definitions of trauma and most of us have either experienced some form of traumatic event in our lives or love and/or care for someone who has. In this way, trauma impacts us all.

A definition of Trauma

"Trauma is when we have encountered an out of control, frightening
experience that has disconnected us from all sense of resourcefulness or safety or coping or love." Tara Brach, 2011

(as cited in the Trauma Informed Toolkit http://www.klinic.mb.ca/resources.htm)

BodyTalk has a profound impact on re-balancing and integrating past trauma and helping us to establish new neural pathways in our brain (which helps in trauma recovery). The best part is that it is non-invasive so that together the practitioner and client can create an environment that feels as safe as possible, to support you in healing.

Courtney loves BodyTalk because it is a complimentary and complex approach to healing that allows individuals to incorporate the ongoing relationship between mind, body and spirit.
She is currently a Masters of Social Work student and a practicing counsellor, as well as a yoga instructor. These modalities work together to support an approach to health and self discovery that is grounded in principles of compassion, empowerment, connection and possibility.

Courtney's background is in community health and social services. She has worked primarily with women and mainly in the areas of sexual and reproductive health, eating disorders and body image. In that same light, as a practitioner, alongside trauma work, she is committed to working with women around all issues including mental, emotional, spiritual and physical health. As part of the LGBTTQ* community she welcomes any individuals that identify along that continuum.