Susan Morris-Ross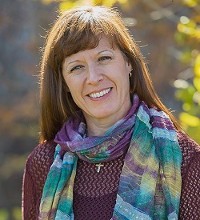 Biography
Over the past number of years, I have always been interested in energy work having learned about energy medicine and taking Reiki, levels I and II. Little did I know that being introduced to the world of BodyTalk would profoundly change my life in so many ways.
Like most practitioners you meet, we have a story of failing health. Mine was no different. Diagnosed with fibromyalgia, irritable bowel syndrome, severe candida overgrowth, etc. I was feeling pretty lousy. Doctors didn't know what was wrong with me, or how to fix it, so the natural answer for them was to keep throwing medications at me. At my high point, I was on 18 different medications. There were days I couldn't even walk and most weeks consisted of one to two "put you into bed" migraines. Then came along BodyTalk. To make a long story short, I am now down to one prescription. I just couldn't believe how this modality had changed my life so significantly in such a short period of time, and not only just my physical health, but my mental and spiritual health as well. As you can imagine, my curiosity was peaked!
I started on my BodyTalk experience in September of 2013 when I took Fundamentals 1/2. Well, that just flipped my thinking on its head and I had to learn more. I became a Certified BodyTalk Practitioner in April of 2014 and am an active member of the International BodyTalk Association.
I have continued my pursuit of learning having taken the BodyTalk Access Course; Mindscape; BodyTalk Fundamentals (Modules 1/2); Principles of Consciousness (Module 3); Macrocosmic Bodymind (Module 6); Matrix Dynamics (Module 9); Lymphatic Drainage (Module 5); Biodynamics (Module 4/7); and Free Fall 1. I am getting ready to start taking Anatomy and Physiology for BodyTalkers, so that I am more familiar with the working of the human body.
In December of 2014, my husband was diagnosed with pancreatic cancer. As most of us know, that diagnosis usually does not end well; however, my husband, who I must say is still a bit skeptical about BodyTalk, was very open to allowing me to work with him. He had his surgery in January 2015 and was back to work that April. That experience dissolved any doubts I had that BodyTalk works. Today, my husband is active and healthy -- we are so blessed!
I do this work not only for my own personal growth, but for the personal growth of others. There is something in doing this work that continues to put the pieces of my heart back together again.
I would love to work with you whether at my clinic or by distance. I enjoy working with clients in-person but I am also very excited about doing distance sessions and the power they have.
I never knew that I would love doing something as much as I do BodyTalk!