Elaine Sanders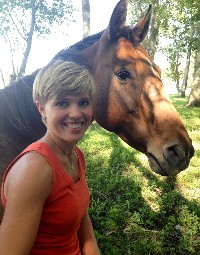 Biography
Elaine grew up in a large family, loving farm life and animals. In 2012, she graduated from the University of Manitoba with a Bachelor of Nursing. Unsatisfied with this career's inability to answer questions, she began seeking complementary therapy methods that could serve not only as a career, but also as a passion.
Guided by her beloved horse named Pecan, Elaine felt motivated to find a therapy to help people and animals. She became certified in Bowen Therapy, Acupuncture, and Low-Intensity Laser Therapy. Using a modified type of muscle testing and asking countless questions, she even developed her own allergy desensitization method. Some clients received amazing results, but for others, there was no relief. Elaine took this as a sign to keep searching until she encountered BodyTalk. Finally, she had found a system that, through asking questions - answered them.
Elaine is an Advanced Certified BodyTalk Practitioner, a certified Life Coach, and she is certified int PsychoSpiritual Analysis, partnering with horses. She practices BodyTalk in Winkler, MB and from her home clinic near Graysville, MB. She also hosts group coaching and BodyTalk workshops in her home, covering a variety of topics. She is working on starting programs that partner with her horses to bring about profound healing within her clients.
Elaine welcomes anyone to contact her for more information or to book a session or workshop.
Phone: 204-331-6285
Mobile: 204-242-4883
Email: elainesanders@hotmail.com
Address: Step Ahead Wellness
301-191 Kimberly Road
Winkler, Manitoba, Canada
R6W 0H7