Toni Gazelle McIntyre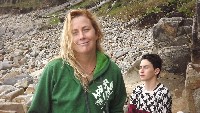 Toni Gazelle McIntyre
CBP, CBP
Clinic
2 Bonville Ct

Peregian Springs, QLD
Australia
Phone: 0439 649 947
toni_mcintyre@hotmail.com

Biography
I am an internationally trained, experienced and accredited BodyTalk practitioner. My interest in natural therapies came to fruit from a childhood of illness. I also trained at a national level in equestrian sports for many years and sustained many injuries as a result.
I first studied BodyTalk in 1998 after receiving a treatment on a very old shoulder injury (which stabilized my shoulder for the first time in more than a decade) and have been utilizing BodyTalk ever since!
Prior to becoming a BodyTalk practitioner I practiced Barefoot Doctors Traditional Chinese Acupuncture, Touch For Health, Pellowah, Reiki, Swedish, Sports, Japanese and Chinese Massage. I have also studied fitness and nutrition homeopathy the use of bush flower remedies, languages and sociology.

To me BodyTalk is a modern version of all those disciplines I previously utilized rolled into one amazing limitless protocol that allows me to continue to study and incorporate new knowledge into your treatments.
I think that's what I love most about BodyTalk, the endless organic learning that takes place, the continued refinement of the procedures and academic development by the IBA, the limitlessness of it, and of course the amazing willingness of the body to continue to find balance.
I look forward to working with you.