Roxanne Peterson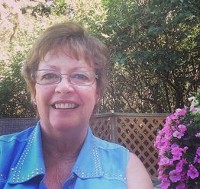 Biography
In the spring of 2013, after having had unresolved emotional health issues for several years, (who doesn't have emotional baggage they carry !!) it was suggested that a BodyTalk session might be able to address these issues. I was so amazed with the session and the results, (the release of the emotional charge) I immediately signed up for my first BodyTalk course. Also as a result of BodyTalk I no longer take medication for anxiety.
This past year, my pregnant daughter had received BodyTalk sessions. Her baby was only 3 weeks old when he was sleeping 8 hours a night. He is now 5 months old and continues to sleep 8-9 hours a night.
In the spring of 2016 I became a Certified BodyTalk Practitioner (CBP). My goal is to achieve Advance CBP status.
My training in BodyTalk has included:
BodyTalk Mindscape
BodyTalk Access
BodyTalk Fundamentals 1 & 2
Advance BodyTalk Principles of Consciousness
Pregnancy Before
Pregnancy: During Birth & Postpartum
Migraines and Severe Headaches
I hold BodyTalk sessions at Body Mechanics Spa & Salon, Prince Albert, SK as well as in Birch Hills, SK.
I am so passionate about this amazing healthcare system and look forward to sharing it with others.
Please check out my website at www.bodytalkroxanne.ca for more information or to book an appointment.