Katie Bell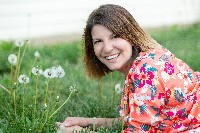 Biography
Katie Bell found BodyTalk after suffering from a car accident in 2013. After suffering with injuries for over a year and tired of hearing she was fine, she started searching for something more. After she had her first BodyTalk session, she soon started taking classes. Katie has been certified as a practitioner since 2016 and now practices out of her home in Saskatoon. Under the BodyTalk umbrella, Katie has completed Fundamentals, Fundamentals Integration, Principles of Consciousness, Bio-Dynamics, Lymphatic Drainage & Applied A & P, Macrocosmic BodyMind, Matrix Dynamics, Mindscape, and BreakThrough 1.
Katie's interest in expanding her awareness has not just stopped at BodyTalk. Katie is also a Access Consciousness Bars & Facelift Facilitator, Access Consciousness Body Processes Practitioner, has taken Access Consciousness Foundations course, is a Chakradance Facilitator, and studied Source Point, Accunect, HelioSol and more. She loves the personal development journey and enjoys being able to share that journey with her clients through sessions.
Katie is thankful for finding BodyTalk and for what it has given her. She has found relief from concussions, whiplash, back pain and injuries, it has cleared up her acne, improved seasonal allergies, helped with her mental well-being, and improved her confidence.
Katie has day-time and evening sessions available. To book an appointment, visit www.balancedlivinghc.com/book-online.