Sam Slodowitz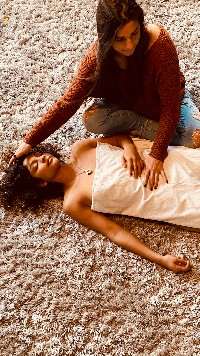 Biography
I was initially drawn to BodyTalk because of its ability to work with animals. Ever since I was a little kid I felt a strong connection to the animal kingdom, for years I would dream about being able to communicate in their language so I could understand their individual necessities and better support their lives amongst humans. Because BodyTalk doesn't rely on verbal communication, working with this system has given me the ability to bypass constructed language and allow the animals to express their unique needs in order to shift into a healthier state of being.
I truly believe that in order to help the animals we have to work hand in hand with their people. I'm grateful that BodyTalk gives me the tools necessary to be able to support my wonderful human clients as well, on their journey to health and radical wellbeing
Learn more info about my services and offerings at my website.
Classes I have taken include:
Bodytalk Fundamentals (mod 1 & 2)
Principals of Consciousness (mod 3)
Bio-dynamics (mod 4/7)
Lymphatic Drainage & applied A&P (mod 5)
Macrocosmic BodyMind (mod 6)
Bodytalk Fundamentals for animals (mod 8)
Maxtrix Dynamics (mod 9)
Facsial Energetics 1
Free Fall 1 & 2
Mindscape
CFT (cranial sacral fascial therapy) for babies
BodyIntuitive
Linking Awareness Journey
Linking Awareness Adventure
Popping the Bubble of Doubt
Equine massage beginners & advanced (Equissage)
If you are interested in a session for yourself or your animals, give me a call or send me a message via email or text.
Sam Slodowitz
Samslodowitz@gmail.com
(310)977-9876