Tawny Zieman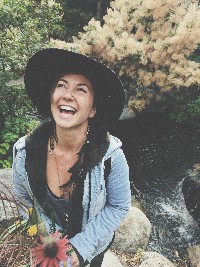 Biography
I'm a certified BodyTalk practitioner, a 200 hour registered yoga teacher, I have a Bachelor of Fine Arts from UBCO and am a student of life; trying as gracefully as I can to navigate all of these beautifully messy life lessons and experiences I've signed up for. And sometimes more closely resembling the rubber chicken than the pink flamingo.
My path as a BodyTalk practitioner began with a healing process of my own for some painfully swollen lymph nodes in my left underarm and leaky gut syndrome; for which nothing was really helping. Not even the mighty power of real food provided consistent relief. The backstory for which goes a little something like this…
I was introduced to nutrition and the power of real/organic food, vitamins and herbal supplements in my early 20's when my grandpa had been diagnosed with lung cancer. The doctors had wanted to remove one of his lungs but my grandma put her foot down and adamantly refused the mainstream medical treatments. She loaded up on all the holistic health food knowledge she could possibly fit into her brain and shifted grandpa's diet to all organic vegetarian, and vitamins became a part of his daily routine. The doctors had given him six months to live, and well grandma, what a beaut, kept him alive for damn near four years and almost had him cured too! It was a cycle of steroids and antibiotics prescribed to him for emphysema that weakened his system and allowed the cancer to run rampant and do him in.
So coming back to my own quest for better health… Insert a complete mistrust for the mainstream medical system's ability to help the body heal from disease/dis-ease and I was looking anywhere but the doctors for help. Most of the holistic healing modalities I tried provided some relief but nothing came close to a substantial shift in my symptoms.
Then one day I was serendipitously nudged onto the right track when one of my loveliest of yoga teachers made a rather profound statement for which I often come back to through any healing process I find myself within, in any aspect of the bodymind. And she'd simply said, "you know, Tawny, are you looking for health so hard that you're forgetting to allow it to happen as well?"
Whoa! BINGO! It was a mega "Duh" moment for me. I'd been doing exactly that.
That statement was closely followed by, "Have you ever heard of BodyTalk before?"
Nope! But I want to've.. Sign me up!
By the end of my first session I had undoubtedly fallen either completely in love with BodyTalk, or hopelessly addicted to it; either way, the acupuncture path I was about to walk down took a hard right into the realm of BodyTalk, where every session is a "magical mystery tour" as my fundamentals teacher, Loesje, would say. And a lot of personal healing across the WHOLE mental/emotional/spiritual/physical vision board I didn't even know I had in regards to a healthful me. I mean, I was just looking for physical health right? The centred feeling I found in the other categories though? Huge bonus! A big shout out to innate wisdom on that one! You know me so well bud.
Realizing that our body's health is intimately tied to how we process, or don't process our emotions and experiences, was that subconscious puzzle piece clicking into place for me for the direction health care needs to shift towards. I like to think that as I begin my path as a BodyTalk practitioner, having only just dipped my toes into the ocean of possibilities it provides, that I'm a "wizard in training" as my brother would say; opening up the magic of my conscious mind to hold space for, observe and support a positive shift in the health of the people and animals drawn to me, and for Mama Gaia.
Available for in person and distance sessions.