Georgina Hecker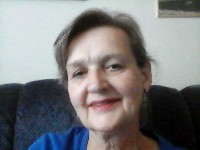 Biography
I grew up in Medicine Hat, Alberta. I attended college in Lethbridge, and received a diploma in the Criminal Justice Program. I started working in my field shortly after I graduated. I've found the work to be interesting and fulfilling. In my late thirties, in my spare time, I began working toward a Bachelor of Professional Arts degree, majoring in Criminal Justice. I graduated some years later, with distinction.
In the spring of 2005, a friend invited me to a Bodytalk presentation. I was interested in energy healing, but I approached Bodytalk cautiously, as many do with the unknown. I decided to test the waters by taking Bodytalk Fundamentals. Obviously, this was the road I was supposed to take. As I began to practice Bodytalk, I saw amazing results! I was certified in the Fall of 2005. I was driven to take more courses in Bodytalk and now have all the basic courses under my belt: BodyTalk: Fundamentals, BodyTalk: Fundamental Integration, BodyTalk: Principles of Consciousness, BodyTalk: Bio–Dynamics, BodyTalk: Lymphatic Drainage and Applied A&P, BodyTalk: Macrocosmic BodyMind, BodyTalk: Matrix Dynamics, Finding Health: Mapping the Healing Process, Bodytalk for Animals, Orthopedic Evaluation, Level 1, and I've completed Bodytalk Parama, Unit 1. I've also taken Right Brain Practical with the founder, John Veltheim, and the Traditional Chinese Medicine course as well. I've enjoyed all of the Bodytalk courses I've attended to date, and have found some of them introduced very powerful healing techniques.
I have now retired from my first career and I now have another career path that promises to be even more satisfying.