Jenna Warren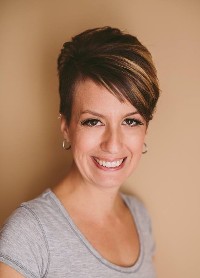 Biography
Jenna Warren-Mayer, Certified BodyTalk Practitioner (CBP)
I have been told I am an EDUCATOR…
I have been told I am STRONG…
I have also been told I am PATIENT, KIND, THOUGHTFUL and CARING, when many times, over the years, all I felt was tired, impatient, anxious and sad.
I believe that I am all of these things, and all of these things are part of me, but that is why I am here today…
I have spent many years educating myself, learning about who I am, who I want to be, why I struggle, why I fight and why I thrive.
R4 Life Balance was created out of necessity for my own HEALTH and PEACE. I realized my journey was to FIND MY BALANCE.
After kicking depression, overcoming anxiety, surviving marriage and divorce, I gratefully ended up with a wonderful daughter, some amazing friends and a great paying job. I was helping people find jobs, find solutions to problems and improve their lives, but then I started getting sick.
I'd never really been sick, other than your typical colds, shingles while pregnant and again through my divorce, but when I started catching every cold that went through the office, burnout at work – struggling with vicarious trauma and compassion/empathy fatigue, anxiety returned in full force, continuous headaches and back pain, having shingles a third time with neuralgia, receiving an incorrect pre-testing diagnosis of cancer by two physicians due to symptoms, and other setbacks. I realized my life wasn't balanced and that I was slowly killing myself trying to be strong. I am a fighter and I just kept fighting and fighting, without stopping, looking, listening and understanding what my body/mind/soul was trying to tell me and what I should be fighting for.
Of all the self care services I accessed over the years, BodyTalk brought the biggest change, it saved me many times and brought me back to life… I am not perfectly healthy, but I am healthier than I have ever been and continue to improve, as we all must. We keep experiencing life, which keeps influencing our health – body, mind and soul – this is why we must continually work at finding and maintaining our balance.
With 20 years experience providing education, career and life coaching/counselling, fluency in American Sign Language, and my passion filled skill in BodyTalk and Lymphatic Drainage, I now educate and support others in finding their own balance through R4 Life Balance, provide referrals to other amazing professionals as well as community resources.
You might think this is a unique set of skills…, and you would be right! …but these were KEY in Restoring, Revitalizing, Reconnecting and Redefining my life, and I want to share this with you.
Being out of balance can tip the scales and eventually break your back, resulting in illness and "dis-ease"… This is the path I was going down until I decided I wanted and deserved better.
If you or someone you know would like to learn more, click here to read further on services offered at R4 Life Balance. Book a free 30 minute consultation by phoning 519-718-8718.