Jenna Warren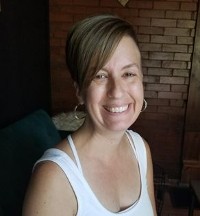 Biography
What is Jenna passionate about?
Jenna Warren-Mayer believes in a holistic approach to health and life balance, not only through BodyTalk appointments, but also by supporting the big-picture, sharing information on valuable local resources, referrals to other practitioners, and self-help opportunities to ensure each person's needs are acknowledged and attended to – it takes a village, not only to raise a child, but to support our continual growth, health, and sustainability.
What types of concerns does Jenna work with?
Jenna's focus is on health, the quality of life of clients, and their ability to enjoy their families, relationships, careers, and downtime. BodyTalk is beneficial for stress, anxiety, immune support to fight off illness and infection, allergies, chronic pain, digestive issues, hormone struggles, learning difficulties, phobias, emotional issues, and more.
Jenna specializes in supporting people struggling with mental health issues that may present as stress, anxiety, depression, burnout, vicarious trauma, compassion fatigue, PTSD, trauma, etc. BodyTalk is a great approach to mental health issues for individuals open to the concept that symptoms experienced are not the root cause, but the result of the body and mind's overwhelm of experiences and dis-ease.
Jenna does not diagnose, nor "treat" the above diagnosis, but supports the individual's body/mind in balancing and healing. In addition, Jenna is supportive of her clients accessing any and all additional health care they feel is needed, including doctor-prescribed medication and mental health supports.
What led Jenna to pursue these therapies?
Jenna spent 20 years, as a Career Counsellor, helping people enter and return to the work world after experiencing significant health issues or disabilities. Although her work was focused on the process of coaching people, helping them find and maintain employment, she noticed the majority of her time was spent supporting her clients in making life changes, finding and accessing services, health care, ways to accommodate people's limitations on the job and building confidence to carry on when life was a struggle. One thing was always missing, the ability for clients to be self-sustaining in their wellness and balance once services ended.
When Jenna found herself in a similar position as her clients, struggling with burnout and multiple health issues, she found BodyTalk, and things began to improve. They improved so much that she changed her career and life path and became a BodyTalk practitioner. Now Jenna is helping others change their lives in ways they didn't know were possible!
What training does Jenna have?
Jenna Warren-Mayer is a certified BodyTalk Practitioner, having completed the following courses:
BodyTalk ACCESS

Fundamentals 1&2

Module 3 - Principles of Consciousness

Module 4/7 - Bio-dynamics

Module 5 - Lymphatic Drainage, Applied Anatomy & Physiology

Module 6 - Macrocosmic BodyMind

Module 8a - BodyTalk for Animals
Jenna also has a degree in Adult Education, a Career Development Professional graduate certificate, certificates in American Sign Language, extensive experience as an Education, Employment, and Career Counsellor, and has completed related professional development courses, which include:
Supporting Neurodiversity through Adaptive Programming

Equity, Intersectionality, & Trauma

International Perspectives (in learning)

Adult Learning Disabilities

Intercultural Communication in Adult Education

BIPOC Perspectives

Equity & Inclusion in Academia – Inclusivity in the Classroom,

Equity & Inclusion in Academia – Anti Racism

Anti-Ableism Perspectives

CPI Non-Violent Crisis Intervention

safeTALK – Suicide Alertness

Suicide Awareness & Intervention

Abuse Protocol Training
Education, Employment & Career Counselling
For almost 20 years, Jenna Warren-Mayer has been supporting individuals who experience barriers in our communities daily, including individuals with low income, low literacy skills, cultural or identity differences, domestic violence, addictions, mental health, social and emotional issues, intellectual disabilities and physical illnesses and/or disabilities. Services include career and education exploration, goal setting, preparing for employment, obtaining and maintaining employment, skills development, navigating through and accessing health care, housing and food security and other resources.