Tori Ann Hoskins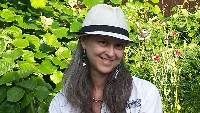 Ms. Tori Ann Hoskins
CBP, Medical Intutive, Animal Communication, CBP, Parama BP
Clinic


,
USA
Phone: 360-513-1769
torihoskinscbp@gmail.com

Biography
Tori Hoskins, CBP, Medical Intuitive, Life Coach, Conflict Mediator
Tori's journey from a career as an Accountant of 20+ years to a BodyTalk Practitioner, started through her own quest for health, After suffering from an illness that lasted 7 years, her medical doctor recommended that she seek alternative healthcare systems. Tori saw two naturopath doctors and then moved on to an Acupuncturist. Tori's aliments which included food allergies, chronic fatigue, emotional issues, gluten intolerance, hormonal and digestive issues started to vanished using the BodyTalk System.
Tori was so intrigued with the simplicity of this new revolutionary Healthcare system, she decided to change careers. So her journey began, Tori was Certified as a BodyTalk Practitioner in 2006 and has since completed all of the advanced modules, which include: Modules 1/2,3,4/7,6,8a BodyTalk for Animals, Module 9, Advanced Procedures, Breakthrough 1, Mindscape, Advanced Mindscape, Pediatrics for BodyTalkers, Finding Health: Mapping the Healing Process, Right Brain Practical, Advanced Philosophy, BodyTalk Interactive, Traditional Chinese Medicine, Reiki level 2, Anatomy and Physiology and is currently studying PaRama Unit 1.
After having been in a place of dis-ease and now healthier then she has ever been, Tori is able to relate with her clients and assist them in obtaining control in their own healing process. Knowing that they have complete control over what happens to their physical and mental well being is very comforting to her clients. With the use of the BodyTalk System she is able to provide innate wisdom lead healing to assist in this process. Practitioners in the BodyTalk system are referred to as facilitators in the healing process. By identifying the dis-ease in the body/mind through innate wisdom using neuromuscular biofeedback (muscle testing) we can then start the healing process naturally. Therefore each clients session is tailored to their specific needs/wants in order to facilitate their healing process.

With the use of Mindscape Tori is able to do session from a distance over the phone. Call for an appointment and experience the natural healing process for yourself.

Health = Happiness