Christina McKenzie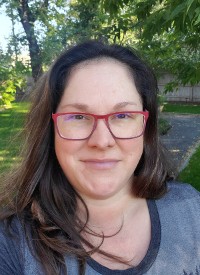 Biography
I am so pleased to finally be stepping into the role of Certified BodyTalk Practitioner after almost 10 years as a client of BodyTalk!

I was at a very low point in my life before I found BodyTalk. I was dependent on chiropractic and massage to manage my pain and I had little to no way to relieve the difficult emotions and anxiety I was facing. As a new mother, BodyTalk allowed me to re-balance after such an incredible life shift - my body, mind and spirit were so depleted that I literally had nothing left to give to myself, my son or my partner. BodyTalk helped me shift some deep imbalances from childhood, relieved me from chronic allergies and asthma, and most importantly, helped take the 'charge' out of situations that would trigger me so I could move forward with practical action.
I credit the successful conception, pregnancy and delivery (at home, no less!) of my 2nd child to BodyTalk and the healing that needed to happen once this little 'disrupter' of the family tree emerged would have never taken place if I did not have the tools to facilitate it through BodyTalk.
I am passionate about sharing my experience and love of BodyTalk with my clients. My 13 years experience as a teacher in the public school system plays a key part in my sessions as a Certified BodyTalk Practitioner - part of my focus is to deliver insight into what is happening with the client's bodymind in a way they can understand and integrate while we balance the priorities that come up. In addition to in-person or online sessions, I love providing my clients with session recordings that encompass a gentle relaxing intro and a meditative journey over what was covered in their session - I credit this to over 25 years studying and performing music! It's the best way to 'take your session with you' and enjoy the healing benefits over and over again!
I am also very passionate about the Arts and have spent my life studying music, dance and drama.
As of 2021, I am so thrilled to be stepping into the role of BodyTalk Coordinator for a number of fantastic instructors all over the world! My strengths lie in online coordinating and I have a variety of unique approaches that streamline the online learning process and create ease for both the instructor and participants! It is my privilege to currently be coordinating BodyTalk Access, Module 1/2, Fundamentals Integration, Module 3, Module 4/7, Module 6, Module 9, Mindscape and BreakThrough 1 - what an honor and such an amazing chance to connect with more BodyTalkers and constantly review the amazing courses within our system!

BodyTalk Courses taken to date: BodyTalk Access, Fundamentals 1&2, Fundamentals Integration, Advanced Protocol/Procedure, Mod 3 Consciousness, CDRRRII, Mod 4/7 Bio-Dynamics, Mod 5 Lymph Drainage/Applied A&P, Mod 6 Macrocosmic Bodymind, Mod 9 Matrixes, BodyTalk in the Treatment of Cancer, BreakThrough 1 and Mindscape.