Donna Kozoriz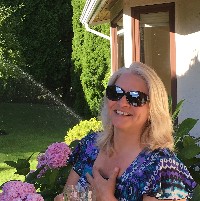 Biography
Donna began working with energy modalities 15 years ago as she was recovering from an accident that left her in a body brace for 3 years.
Conventional Medicine provided some comfort but chronic pain and depression defined her days for the next 8 years. In a search for relief, the discovery of The BodyTalk System was life changing. As she felt her body begin to respond and finally heal, she became excited to learn and share this consciousness based Wholehealth Care system and became a certified practitioner in 2005! Now nearly pain free, she is a walking testimonial to the amazing results of this comprehensive modality.
The BodyTalk System addresses Arthritis, Allergies, Depression, PMS, Acid Reflux and symptoms of Menopause with Body Chemistry Specifics.
"During the session, the body re-learns to resonate harmoniously with the substance. Using vials, the practitioner is able to pinpoint the weak links in the body's communication system that would lead to a reaction, and then re-establish the lines of communication. The body's innate wisdom determines the priority for the body to heal itself at every step."
Donna's experience and knowledge from breeding and training working Police Dogs and breeding Quarter Horses for 20+ years, combined with nutrition and behavioural knowledge are invaluable pieces of information in an Animal Talk session.
She is also currently studying Traditional Native Teachings and Healing in the Cree tradition.
The learning never ends......

Donna has successfully completed all of the advanced levels of the BodyTalk System.