Mollie Yunker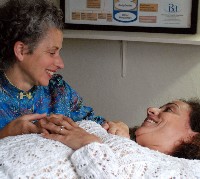 Biography
Getting to the Heart of the Matter is Mollie's specialty
Among the most powerful and empowering changes was Mollie's introduction to The BodyTalk System™ in 2002 at The Omega Institute.
Mollie is a holistic health care practitioner and workshop creator using The BodyTalk System™, Reiki, meditation, her highly developed intuition, and other transformative methods that include accessing the science of the mapped genome, body and mind. Results have earned her the nickname "Mollie Lama". She has presented custom programs to the Prospect Chamber of Commerce Conference, Sanctuary of Eternal Truth, Kentucky Hypnotherapy Association, Kentuckiana Holistic Nurses Association, and other local organizations. For two weeks a year Mollie is a seasonal staff instructor at The Omega Institute, a globally recognized holistic retreat center. Wellness results include improved relationships at work and in personal lives; reduced stress, anxiety, and pain; healing, alignment and harmony.
"Mollie's forte and affinity is The BodyTalk System, and she is exemplary with it." – Barbara Bloecher
Mollie's journey of learning, from formal classes to life experiences, continues to take her deeper into KNOWING and trusting.
She lives courageously. Because of her training and experiences; a stage IV cancer journey, divorce, "live in the moment gypsy journey", she can show up for you.
Client results have earned her the nickname "Mollie Lama"
- Case Studies and Quotes -http://www.bodytalkworks.net/testimonials/
OMG!! That is all I can say.
I walked into Mollie's office not really knowing what to expect but, I was curious and honestly desperate to crawl out of this hole I had been in for YEARS.
I have worked with Mollie for a month and I am out of my hole and on my way to understanding myself more than I ever thought possible.
She has given me clarity and hope that I can accomplish anything I set my mind too. Have one visit with her and you will understand how amazing she really is.
Thank you Mollie - Connie
In one session a woman experiencing fibromyalgia had very reduced pain. Has since given back her handicap parking pass and no longer identifies as having fibromyalgia.
I met Mollie five years ago when she came to South Florida for a training. I am a licensed massage therapist. We exchanged work during her visit.
I had always been quite skeptical about "energy work." Four years prior to our meeting, I had been involved in a serious motorcycle accident which, among other things, caused my damaged left foot to be in pain almost constantly. Since that time, the foot has been pain free more than 99% of the time. Mollie made a believer out of me! - Jeff Brown
After a presentation I did the Brain Balance on an attendee and she called the next day to say "I have my brain back". "What you don't know is that I had a stroke six years ago and it has not been firing completely."
I first met Mollie and experienced the Power of BodyTalk at an open house where she did a quick scan and reading for me, my wife and my daughter. I was amazed how she was able to intuit specific details about my family from just touching my hand. I followed up with her months later for the purpose of a deeper understanding of how her art worked and with the goal of becoming more in touch with the spiritual aspect of life. - John
Improving relationships and family dynamics, sometimes in as little as one session.
Client had shingles for nine months. All pain gone following second session.
"Before I had BodyTalk, I had migraines at least once a week. And after Mollie worked on me, I rarely have one! "

- Bella
"I had a severe cat bite that required surgery. Five months following the surgery I had no feeling in one finger. Within the week following my first session, all feeling returned." - Devi
frozen shoulder moving again - following a year of pain, restricted mobility, cortisone shots and considering surgery, client regained full mobility in one session.
phobia gone - client experienced anxiety when in the mountains as well as in the choir loft. Following a session, with a balance for "fear of falling", she says her fear and symptoms are gone. While in the Andes Mountains she found she could ride the bus and enjoy the scenery!


Education, certifications and practices:

BodyIntuitive

BodyTalk, advanced modules. Evolve Epigenetics, Orthopedic Evaluation, BodyTalk Interactive, BodyChemistry Specifics and Mindscape

LED Lights


Two weeks a year I am a seasonal staff instructor at The Omega Institute, a globally recognized holistic retreat center.

Reiki Master Teacher

WORKSHOPS Balancing the Brain, You & Money, What's Next, Finding Your Way, The Energy of Diabetes, and more...

PRESENTER

• Prospect Chamber of Commerce Strong Leadership Strong Women Conference 2013 • Sanctuary of Eternal Truth 2011 & 2012

• Kentucky Hypnotherapy Association 2011

• Kentuckiana Holistic Nurses Conference 2009 • Meditation and Universal Awareness Class yearly since 2008-




BEFORE BODYTALK Self-employed Graphic Designer

Instructor at Watkins College of Art & Design, Nashville 2002

University of Cincinnati, BS in Graphic Design 1986