Michelle Boule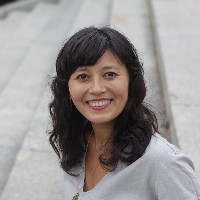 Biography
Michelle Boulé has studied the body and movement for 35 years and is the owner of MBody Radiance (https://mbodyradiance.com). An award-winning dancer, choreographer and teacher of international renown, she has always believed that creativity, movement and healing are inextricably linked. A dance injury at the age of 16 opened her eyes to the possibilities of holistic healthcare, and her intimate understanding of how the body moves has led to an ability to connect to clients with precision and compassion in her practice of energy and consciousness-based medicine.
Michelle became a Certified BodyTalk Practitioner in 2008, immediately recognizing it to be one of the most comprehensive, effective and efficient healthcare modalities she had ever encountered. It transformed her life, to say the least, by giving her a profoundly different understanding of how the body, mind and spirit find vitality and health. She maintains her certification through continued study with the IBA and has completed all of the Advanced Module training. She adds to this an already broad repertoire of healing modalities studied over the course of 20 years, including SourcePoint Therapy, BioGeometry, Yuen Method, Body-Mind Centering, Fitzmaurice Voicework, Alexander Technique, Franklin Method, Feldenkrais Method, yoga, Ayurveda, and contemporary performance. For Michelle, each session is a gift, and she remains grateful and inspired by witnessing the transformation in her clients' health, growth, creativity and overall well-being.
If you are interested in working with Michelle, please feel free to contact her through MBodyRadiance.com. She has worked with clients on depression, anxiety, digestive disorders, auto-immune issues, trauma, fertility and childbirth, life transitions, creative projects, and relationship/family support. The work she does reminds each person that their body/system is built to heal and grow through harmonizing the communication systems in the body, thereby creating the best conditions for healing to happen. Once your body is harmonized, your life starts to harmonize as well!
Testimonials
"Michelle is such an incredible healer with so much wisdom and clarity, and it's contagious!"
-Ann Duffy, Preschool Teacher & Co-founder of The Lovelies, Brooklyn, NY
"Thank you very much, Michelle, for the session! You are a very skilled practitioner. I'm amazed at how much was covered and how it resonated with the 'priorities' in my life right now. I experienced a noticeable shift in the following days, with a lot of old programming being released. It's true what they say, that when the student is ready, the teacher will appear. I feel I am in a different and better place today because of both you and BodyTalk."
-A. Gentile - Brooklyn, NY
"I was deeply moved by my session with Michelle; her work was something I didn't know I needed. I felt so empowered afterward to speak my truth and take action about the obvious distress that came up, that I cleared the rest of my day to do so. I thank you for the needed nudge, your wisdom, and kindness."
-N.G. - Brooklyn, NY
"I love the work you do so much and I was happy to reconnect to it and you. I'm certain it contributed to my very happy birth experience. So grateful."
-Anna Carapetyan - Doula, Brooklyn, NY
"Many thanks for the BodyTalk work. All I know is my back is excellent, and I have had no problems with it since. It must have been your Magic Touch!!!"
-Margaret Kelleher - Limerick, Ireland
Testimonials from Distant Sessions
"Wow. Our session was one of the most powerful bodywork experiences I've ever had. It seriously reframed my situation and immediately gave me the sense that I had tools for looking at how I was feeling with ease and love instead of anxiety.
It led me to take even more time off to rest. And I'm now in deep rest mode which feels more grounded and explorative even. I am tired, very hungry and thirsty, and still a little out of it, but I get the sense that I am recalibrating.
Thank you so much. You've set the pace for how I'm structuring my healing and my days for the next bit of time. It means everything to put my well being first."
-Devika Wickremesinghe - Los Angeles, CA
"I felt changes that were huge for me. I was in a social situation that normally would have been challenging but wasn't. I actually felt attractive for the first time in a while. Confidence levels, humor coming out, joy. Thank you for my amazing session! It made so much sense on so many levels and has had an interesting outcome already. Can't wait to see how it continues to unfold. "
-Anonymous - Loveland, Colorado
"My sessions with Michelle are so beautiful. They remind me of why I studied Bodytalk. They carry the essence from that time that was so full of curiosity and miracles. She is very clear and incredibly knowledgeable of the system. The sessions are thoughtful and effortless. Each one feels like a unique stamp from that specific time in my life. She is truly a wonderful practitioner. I recommend her highly."
-Ana Mendez, Certified BodyTalk Practitioner and Performance Artist - Miami, FL
BodyTalk Course Training
BodyTalk Access
Fundamentals
Fundamentals Integration
The Soul's Journey
BodyEcology
Evolve Epigenetics
Principles of Consciousness
Bio–Dynamics
Macrocosmic BodyMind
Matrix Dynamics
Body Chemistry SpecificsBodyEcologyFounders Intensive
Mindscape
BreakThrough 1
BreakThrough Practical
FreeFall 1 & 2
PaRama Unit 1 - student