Laura Mitchell Wilde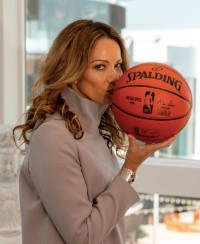 Laura Mitchell Wilde
NBA Player Development Consultant, Agape, QPD, BAT, MSI, CBP, Parama BP
Clinic
111 Sports Metaphysics

Suwanee, GA 30024
USA
Biography
Laura (Mitchell) Wilde
Doctoral Candidate, Natural Medicine
Part of the BodyTalk system since 2007, Laura spent time
as John Veltheim's Exec Asst and Research Asst., and was
personally trained by John in 2011 to be an Access Instructor.
She is also a MindScape Instructor. When you take
MindScape, you'll see your life's possibilities unfold in front
of your very heart and eyes.
Hi! Thanks for checking out my bio. I'm excited to be using
my mind-body and MetaPhysics training to do really
interesting things lately. My favorite things right now are
that I work with an NBA team, teach MindScape and a
Sustainable Selfcare class, and am on a quest to help my
team win a World Championship.
www.LauraMWilde.com
www.fivebodieshealth.com
I began my MindScape journey in 2008! Then I began the journey to teach it in 2017 and what a gamechanger for my students and the athletes that I work with!
A life changer - really!
Here is my bio:
(I hope it's good because I wrote it myself!)
Laura works in Holistic Professional Athlete Player Development,
(NFL, NBA, WNBA and MLB).
Mind-Body Medicine, Sports Nutrition, and leads the
Meditation Program of a Championship series-bound NBA
(National Basketball League) team. She also has an in-
person and distance holistic healing practice.
Laura is in her final year of a PhD program for Natural
Medicine.
Laura has a Bachelor's Degree in both English Literature and
Holistic Health, and also a health coaching certificate from
the Institute for Integrative Nutrition, and Sports
Industry Certificate from Columbia University in their Ivy
League Essentials Program. An avid student, Laura is also
trained in Intuitive Medicine, Neuroscience, Sports Nutrition
and more. Laura is also trained in all of the advanced
BodyTalk modules and has also completed Epigenetics, Body
Ecology, Body Intuitive,PaRama, and Breakthrough training.
Laura is trained at the (PaRama) highest level of the BodyTalk
system for Whole Healthcare.
At this point - you either like me and would like to work with me or you don't. ;)
If you like reading and are open to reading my rambles - by all means - carry on and read the rest!
The List:
Sports MetaPhysician™
NBA and MLB Mental Performance/Meditation Coach
NBA Player Development Consultant
MindScape Instructor
Global Access Instructor
Sports Industry Essentials Ivy League Certificate
CBP (training in final module for Adv status)
PaRama BodyTalk Practitioner
Certified Health Coach (IIN)
Neuroscience Academy with Sarah McKay
I bring my Consciousness-based studies, metaphysical
trainings, the teachings I've learned from 14 years of
learning with Dr. Michael Beckwith (not my guru - I don't
have one) my daily meditation practice, and the brilliant
concepts of BodyTalk and Body Intuitive together for
miraculous and profound transformational sessions. I'm
currently working on myPhD. in Natural Medicine and
the things I'm learning are enhancing my BodyTalk
practice.
Through BodyTalk I have and my clients have experienced:
remarkable healing and remarkable wellness. First, it worked
for my family and me and changed our health. Then, I started
on the path to learning the entire system and became certified.
I love working with people who are seeking excellence in
health, work, relationships, and life.
Sports Highlights
Elite Mental Performance Coach with an NBA Team

Elite Mental Performance Coach to MLB and NFL Players

NBA Player Development Consultant

Elite Athlete Specialist

Former NCAA Head Basketball Coach

Two-Sport Scholarship College Athlete

Epigenetic Sports Medicine™

Epigenetic Player Development

™

for elite athletes
Before finding BodyTalk, I spent nearly a decade as an
NCAA Head Basketball Coach while also running a company to help elite athletes follow their college sports dreams.
I began my BodyTalk journey in LA in 2007, became a
BodyTalk practitioner the following year, and continued on
the path to become certified with all of the advanced courses
and PaRama levels so I could learn and absorb this life-
changing work. It helped me heal my crap along the way.
I've taken and monitored all of the basic and advanced courses
in the BodyTalk system.
Fundamentals (Mods 1&2) 11 different times (yeah, it's that good),
Fundamentals Integration
Principles of Consciousness
Bio-Dynamics
Lymphatic Drainage
Macrocosmic BodyMind
Matrix Dynamics
Advanced Modules Integration
MindScape (6 times)
Advanced MindScape
Breakthrough
Body Ecology
Epigenetics
Finding Health 1
Finding Health 2 with Dr. John Veltheim
PaRama Unit 1
PaRama Practical
PaRama Unit 2
Athletes and Sports
Quantum Sports Medicine™

This is my proprietary blend of holistic healing modalities that
includes Quantum Player Development™, Performance
Energy Integration™ and of course BodyTalk and Body
Intuitive, Body Ecology and Epigenetics. It's perfect for
athletes who want to get healthier, prevent injuries and
unleash their inner champion. I have authored a few books,
articles and blogs and reports to help athletes and coaches.

Coach Laura has worked with many internationally known athletes including NFL players and coaches, General Managers, and players past and present, NBA Champions and other players past and present, players preparing for the draft, an NFL Team Surgeon, WNBA coaches, NCAA coaches, and professional ballet dancers who have injuries, chronic pain, or who need pre and post surgery sessions. Mitchell also works with anyone who would like to raise their mind-body performance levels, increase team chemistry and have super results on the court or field. Her creation of Intuitive Player Development™ has been instrumental in helping players access the zone and play in flow.


Transformational Coaching for Athletes
Coach Laura's experience as a standout 2 sport NCAA athlete, NCAA Head Basketball Coach, High School Basketball, Volleyball, Golf, and Track Coach, Assistant Athletic Director, college athlete, sports advisor for elite athletes, gives her a unique approach to her athletic and non-athletic clientele. For the non-athlete client, Laura's coaching has also been transformational. People find new careers, healthier relationships, better parenting experiences, and understand better how to be in their purpose.
In other words, athletes, teams, coaches, or anyone who wants to take their health, their game or their life to the next level who use Quantum Player Development ™ combined with BodyTalk™ will likely find a great appreciation for their newfound excellence. When you work with Laura, your champion within will be revealed.