Maina Campos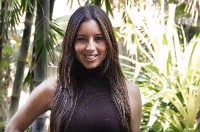 Biography
Maina Campos is a Brazilian-American Advanced Certified BodyTalk Practitoner & BodyTalk Access Trainer
.
She has been practicing and studying BodyTalk since March 2003,
apprenticing closely with Advanced Senior BodyTalk Instructor & Acupuncture Physician, Dr. Janet Galipo in Miami Beach, Florida. She is a Registered Yoga Instructor since 2005 and a Florida Licensed Massage Therapist since 2007, where she is also the President of the Educating Hands Alumni Association.
She integrates her life long passion for body movement, and extensive training of the human anatomy and spirituality, to cultivate awareness and enhance consciousness of the inter-connectedness of the body, mind and spirit. Maina has immersed herself in South Florida's Yoga and Holistic community introducing and spreading BodyTalk consciousness.
She has also taken Breakthrough I & II with Esther Veltheim, Mindscape with Kris Attard and has taken various trianings and studied with the creator and founder of the BodyTalk system, Dr. John Veltheim.
Fluent in English, Portuguese and Spanish.
Her private practice includes sessions of BodyTalk, Integrative Therapeutic BodyWork, Energy Medicine modalities and various styles & methods of Yoga and Meditation for many years throughout Miami, New York City, Rio de Janeiro, São Luís and Brasília.
Maina assisted and supported Janet Galipo in the pioneering developments of bringing and spreading the BodyTalk system in Brazil since 2003.



Maina Campos is also a BodyTalk Access Trainer and is teaching BodyTalk Access Program across Brazil and the USA and she open to receiving invitations abroad.
Her primary focus as a BodyTalk Access Trainer is in
bringing the BodyTalk Access Program, a system she believes contributes to sustainable health care solutions around the world into low-income and impoverished communities, favelas and centers where there is little access to health care. She is also an active Board member and Ambassador of Be Healthy, Inc. Non-Profit Organization.
Maina was involved in overseeing developments and organizations of a few BodyTalk Outreach project through representing Janet Galipo's BodyTalk non-profit Be Heathly, Inc. at
Volunteer BodyTalk Projects
connected
through ABRACE at the Hospital da Criança de Brasília and Hospital Municipal Carmela Dutra in Rio de Janeiro.
She currently resides and has a clinical practice in Miami Beach, Florida. Maina travels to Brazil often, mainly to
Brasília and Rio de Janeiro.
She continues evolving and co-creating within the international BodyTalk Matrix as a BodyTalk practitioner, Access Trainer and in promoting BodyTalk through social media marketing strategies.
Maina Campos is proud to serve and grateful to be an IBA member and representative.