Elizabeth Hanson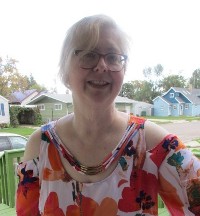 Mrs. Elizabeth Hanson
BA, EFT, RMT, CFT, BAT, CBP, AdvCBP
Clinic
Health & Life Center
113 Main St. E, Suite #6
Rolla, ND 58367
USA
Biography
Elizabeth D. Hanson
Advanced Certified BodyTalk Practitioner
BodyTalk Access Trainer
Craniosacral Fascial Therapy
Reiki Master Teacher
Emotional Freedom Technique
Access Consciousness Bars
Emotion Code
Body Code
Member of North Dakota BodyTalk Association
Member of the International BodyTalk Association
Member of the International Association of Integrative Medicine
How I got into BodyTalk:
I have 3 lovely daughters who unfortunately had large numbers of food and environmental allergies (one of them 198 allergies!) . At that time 2002 my two oldest girls were diagnosed with Autism and OCD and my youngest, Hannah (then 1), had continuous infections and her speech had stopped developing. We had struggled for 5 years on a very restrictive diet that helped to improve their health and behaviors but it was very difficult to follow. Then we found BodyTalk! Getting rid of all those allergies and helping the body to communicate and find a better balance was PRICELESS! Now all my girls can eat whatever they want without allergies! Even better is that my oldest girl Esther is no longer considered Autistic or OCD. Sarah is much improved over what she was in 2003 and continues to improve. Hannah's speech has caught up and she is continuing to develop normally and she hasn't needed antibiotics since 2003. The miracles that BodyTalk did for my family made me a firm believer and I decided to get trained. Now I get to see what can happen in other people's lives! It is great being a BodyTalk Practitioner!
What I like best about BODYTALK
I love the simplicity and safety of BodyTalk! There are no supplements, herbs, medications, creams, "remedies", cleanses or diets to follow which is wonderful! As a practitioner I love it because it is so relaxing. It is so relaxing, in fact, that some of my clients fall asleep during their sessions! I also like it because it is personalized, no session is ever the same, BodyTalk is what your body needs right then not what someone "thinks" you need. I also love BodyTalk because of the results. It is really wonderful when someone who has had back pain for years gets off my table and says their pain is gone!

Office/Session Information
To make a reservation for a session with me please call 701-477-3640.

Health & Life Center
113 Main St. E Suite #6
Rolla, ND

Office hours are:
Monday thru Thursday 9 am to Noon and 5 pm to 8 pm.
Friday's 9 am to one hour before sunset.
No Saturday hours.
Sunday 10 am to 8 pm.
Please no Friday night or Saturday calls unless an emergency.
The first visit is $140. All subsequent sessions are $75.
Distance sessions are available at $75.

Payment by cash, personal check or credit card through PayPal.
Sessions do not require you to undress but it is best for you to wear loose fitting and comfortable clothing. You will be asked to remove your shoes, watch, any magnetic or electronic items, and/or clothing items with metal parts (belts, underwire bras). Sessions are done while you are lying on a treatment table but can be done in other positions if lying down is uncomfortable. Sessions involve light tapping on the head, sternum and over the bowel/gut while touching points on the body.
A patient intake health form will need to be filled out and consent form signed. For minor children a parent will need to sign and be present for the session. Information from a session is confidential.
About Me:
I was born and raised in Maryland and Virginia. I attended college in Michigan and at the Colegio Adventista de Sagunto in Spain. In college I took a year off for mission service in Japan and another year of study in Spain. I graduated college from Andrews University in Berrien Springs, Michigan with a Bachelor of Arts Degree in History with minors in Spanish and Secretarial Science in June of 1986. I have taught Spanish, history and English as a second language. I managed an orthopedic surgeon's office for nearly 6 years. I also owned my own business for pregnancy preparation, childbirth education, as well as lactation consulting and childbirth services in Illinois. I have owned my own private business The Health & Life Center here in Rolla, North Dakota since spring of 2004. I enjoy reading, embroidery, sewing, cooking, music, volunteering with local youth groups & clubs, being with my daughters and grandsons and talking about BodyTalk!
BodyTalk Courses Taken:
Access, Fundamentals, Fundamental Integration, Priniciples of Consciousness, Bio-Dynamics, Lymphatic Drainage/Applied A & P, Macrocosmic BodyMind, Matrix Dynamics, Body Chemistry Specifics, Chinese Medicine for BodyTalkers, Right Brain Practical, BodyTalk Interactive, Advanced Module Integration, Finding Health 1 & 2, Body Ecology, PlantTalk, BreakThrough 1, MindScape 1, and Advanced MindScape.