Adriana Barros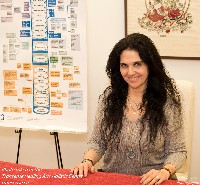 Biography
Adriana Barros has a Bachelor's degree in Language and Literature with specialization in Translation and Interpretation from Ibero-Americana Faculty, in Sao Paulo, Brazil.

She has worked for almost 20 years as a community interpreter in health care in Toronto, Canada. Adriana is proficient in Portuguese, Italian and Spanish and has a wide experience in working with multicultural communities. She has worked as a medical secretary for almost 10 years, helping people with her altruistic personality and big heart.

It wasn't until 2012 that BodyTalk was introduced to Adriana and due to health issues she initially became a client and her curiosity and interest were instant. Soon enough she started taking courses and became a BodyTalk Access Technician. Two years after having become a client, she became a certified BodyTalk practitioner.

Adriana has volunteered as a BodyTalk practitioner and mentor at the BodyTalk Community Clinic in Toronto.
Adriana has seen clients for a wide range of problems, such as: IBS, hearing loss, brain damage, car accidents, back pain, cerebral palsy, heart condition, brain tumor, anemia, depression, UTI, panic attacks, relationship issues, weight gain, to name a few.


Courses taken by Adriana:
BodyTalk Access - Instructor: Cherie Carpenter
BodyTalk Fundamentals - Instrutor: Cherie Carpenter
Mindscape - Instructor: Andrea Carter
BodyPsychology - Shoulders, Hips & Spine - Instructor: Dr. John Veltheim
Practitioner Reflex: The Ability to Respond - Instructor: Dr. John Veltheim
Fascia Energetics 1- Instructor: Dr. Kerry D'Ambrogio