Ashley Kerr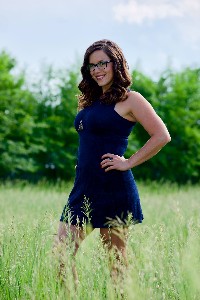 Biography
Ashley Kerr is no stranger to taking a holistic approach to well-being, having spent years as healer and a mother.
She started her journey as a child. She noticed she could heal with love from her heart and thoughts from her head, which she directed out of her hands. She continued to learn about setting intentions, herbalism and many other modalities through her teenage years. She decided to put her creative talents to work in the world of cosmetology at the age of twenty, in order to support her young children. She continued this path for years, exposing herself to harsh chemicals and neglecting her physical/emotional/relationship and mental health. She fell into serious illness where she was shuffled from doctor to doctor, and drug to drug. She was on the verge of an auto-immune disease, covered in hives and rashes, and suffering from digestive disorder and depression.
Out of hardship comes the greatest of lessons. She realized that the symptoms she was presenting were nothing more than how her BodyMind was trying to communicate the need for change. She knew that her body had the ability to heal itself when provided with a supportive environment. She has graduated college with two diplomas (Traditional Doctor of Naturopathy and Master Herbalism) and has been certified in BodyTalk and Reiki energy medicine. It was through education and self-care practices that she found herself coming out of a state of illness and into a place of balance and wellness. She has blossomed into a being of light, a facilitator of health for herself and beings who seek a similar journey.
At BodyMind Balance, the whole person is addressed: emotional, physical, genetics, beliefs and environmental influences. She encourages her clients to enable their bodies to heal themselves. Innate wisdom leads each session and compromised, weakened or disrupted communication is improved according to what the priority is for the client.
Ashley understands the profound influence that the psychology of the body has on physical health, and has been trained to refocus the body's natural healing response to establish better communication within the BodyMind complex. This is achieved with energy medicine. Depending on the clients individual needs, integrating natural therapeutics such as nutrition, life coaching, wholesome supplements, herbs and homeopathic remedies are utilized. Her goal is to provide the BodyMind with available resources in order to achieve optimal balance and sustain long-term wellness.
Please call to schedule your session. Thank you!
Yours in Health,
Ashley Kerr HHP MH CBP