Sarah Lascano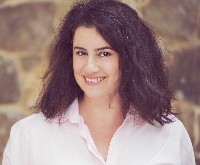 Biography
Sarah Lascano offers integrative healing practices to those seeking holistic health and alternative medicine solutions. She is certified in BodyTalk and a number of complementary techniques that successfully address illnesses and imbalances such as allergies, anxiety, chronic pain, surgery recovery, depression and many other conditions. Sarah believes the body knows how to heal and is constantly striving for wellness. Everyday life is full of experiences that stress and damage our natural ability to heal, which may result in physical or emotional symptoms—our body's way of letting us know it needs a change. Sarah works with the body to remove these blockages, guiding it to heal safely and effectively.
Sarah's healing efforts address the root causes of physical and mental disturbances, and not just the symptoms, enabling true and lasting wellness. She works with people of all ages, from infants to the elderly. Her sessions target the whole mind-body complex to provide deep healing that allows the body to become vibrantly healthy and reach its full potential.
Sarah uses a variety of noninvasive techniques that help restore the body's natural functions. In addition to BodyTalk, she uses NeuroModulation Technique, Integrated Energy Therapy, Emotional Freedom Technique, and Tapas Acupressure Technique. These techniques integrate seamlessly in her sessions, and are customized to each client's needs and individual health goals.

· BodyTalk
BodyTalk is a therapy that allows your body's energy systems to be re-synchronized so they can operate as nature intended.

· NeuroModulation Technique (NMT)
NMT is an informational medicine technique that corrects the source of illness so the body can be restored to wellness.

· Integrated Energy Therapy (IET)
IET is an energy therapy system that gets the 'issues out of your tissues'. Energy blockages are released and in their place, positive energy helps bolster the body.
· Emotional Freedom Technique (EFT)
EFT is an emotional freedom technique that can release the emotional charge on a variety of traumas and experiences. Simple and easy to learn, it is empowering to take control of your emotional health by having a tool to use when the need arises.
· Tapas Acupressure Technique (TAT)
TAT is an emotional clearing technique that releases the emotional charge on a variety of traumas and experiences.
Sarah is currently accepting appointments in Fairfax, VA, Winchester, VA and by phone.
BIO
Sarah Lascano is an alternative health practitioner with certification in BodyTalk and complementary techniques. She became interested in holistic health during her journey to improve her own health. While suffering from Chronic Fatigue Syndrome, adrenal dysfunction, and multiple food sensitivities, she learned about the mind-body connection and the body's energy system. She initially saw some improvement with supplementation and diet changes, but true healing remained elusive. Energy healing provided the missing link, and she now finds great joy in helping others discover healing on their wellness journeys. Prior to her journey into alternative health, Sarah was an industrial engineer and worked in logistics and consulting. Sarah lives in western Virginia with her husband and three young children and enjoys cooking, gardening, biking, and spending time with her family.