Karen Stothers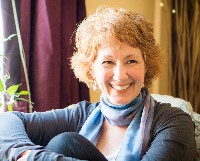 Biography
Karen's specialty is supporting people to deeply connect to their greater purpose in life and align with their deepest values.
These times of great transformation in the world can feel chaotic, uncertain and unsettling. As individuals and collectively we are being challenged to find a new way forward. Feeling stressed and overwhelmed? It is at these exact times that the seeds for greatest possibility and opportunity are planted!
Karen's guiding principle is "right relationship". When we align our mind, body and spirit we can be in right relationship with ourselves, which extends out to include family, friends, plants, animals, the earth, our ancestors and all beings.
With an education in psychology, sociology and brief systemic family therapy and with her intuitive ability to connect with the "so called" dead, Karen is tapped into the ways we are affected and supported by forces that are often unseen. In order to access the incredible supports that are our natural inheritance as spiritual beings, we must follow the messages our bodies are constantly sending us. Our bodies are powerful barometers that reflect the inner workings of our heads, hearts and spirits.
Even as a little girl Karen was reading energy and communicating with beings who were not visible to others. Her natural intuitive nature with the structure of the BodyTalk protocols and procedures have made for a strong and balanced healing practice.
If you or someone you know is in a time of transition, feeling held back but can't figure out how to move forward, face serious health challenges or are dying/caring for someone who is at the end of life phase, Karen's insightful, compassionate sessions may be of benefit. If you would like to meet her first she would be happy to have a free introductory meeting in person, on the phone or via skype.
Since Karen accesses information about your mind/body/spirit through an intuitive process it is actually not necessary to be physically present for a session. Karen has had wonderful results and enjoys doing sessions for people around the world via skype or phone, although if you are in or around Nelson, BC she would love to meet you in person too!