Lisa McCormick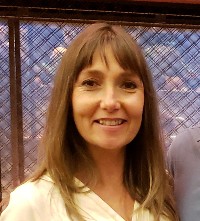 Biography
In 2009 I was diagnosed with Fibromyalgia and Interstitial Cystitis. In other words my gut and bladder were on fire and I was in pain 24/7. I would wake up repeatedly every night at 1 am until 4 am. After having a colonoscopy and finding nothing I was perplexed. The last straw was when the last Dr. ignored me and spoke to my husband instead me the patient. I realized I had to try something new. I was given a business card for a Bodytalk Practitioner. She was in CA and I had my first session over the phone. I was skeptical, I even purposefully delayed the health history forms until after the session. After that first session, I became a believer. She only knew my symptoms on the surface yet was able to pinpoint others issues that I was dealing with. In a very short time, my health improved, so much so that I no longer have Fibro or IC. Western Medicine told me there was no cure for either of those issues.
I was so impressed with this modality that I had to learn it myself. In 2015 I became a certified Bodytalk practitioner, fulfilling a dream of mine. I had always wanted to be a medical doctor but it did not truly align with my holistic ways. Bodytalk encompasses a whole body approach. You are more than just your physical body, you are a mind, body and soul! Bodytalk also intermingles Traditional Chinese medicine, quantum integrative medicine, physics and philosophy=
consciousness based healthcare.
I have taken the following Modules:
Fundamentals 1 & 2 and
Fundamentals Integration
Mindscape
Advanced Bodytalk Protocols and Procedures
The Soul's Journey & 3 Brains
Bodytalk Direct
Macrocosmic Bodymind
Bio-Dynamics
Matrix Dynamics
"Consciousness guides us into transformation and inner growth."