Jenna Caplette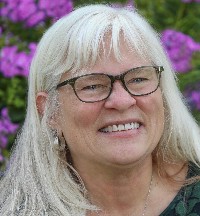 Biography
Today, too many women are lonely. Too many of us face unexpected or long-dreaded health challenges.

If you are one of these, you know that unassisted stumbling through life feeds depression, anxiety and, well, loneliness.




We change the world by first changing ourselves and how we show up to our lives, our communities. Though I have sought out the best possible support for my journey, I have found that ultimately life itself is the best, most exacting, teacher. I offer a web of experience, of knowledge, that can't be gleaned from a book or a class.




I am dedicated to healing the hearts, minds, and spirits of women who are experiencing pain; educating those who are eager to learn; guiding those who have gotten off-track; and reminding those who have forgotten their essential selves.




I am here to uphold you in your process with completely personalized healthcare, to help you to make wise choices about just the changes you need.




This is a small, "exclusive" practice by design. Part of what you receive here is a person-to-person interaction. You are not one among many but one among a few, honored & remembered.




I offer my best work with

Releasing cranial tightness; helping clients find relief from head & fascial injury as well as dental trauma;

Exploring and shifting chronic health & behavioral challenges;

Navigating life transitions, choices and challenges (grief);

Alleviating stress and trauma; anxiety and isolation;

Brainstorming creative solutions to issues;

and healthy and graceful aging/saging;




Also find help for

Headache, neck and shoulder tension and pain;

TMJ;

Dental, orthodontic and medical treatment recovery and preparation (for medical procedures);

Surgical scars/adhesions and trauma, including C-sections; and

Not getting the results you want from approaches like chiropractics and physical therapy




Exactly how?




With the tools of BodyTalk, I address Epigenetic changes from inherited and acquired traumas or exposure to toxins. These include injuries and accidents, as well as recovery from medical and dental procedures, along with surgical scars/adhesions and trauma, including C-sections. I have experienced many of these myself.




I also offer Ortho-Bionomy?, Craniosacral Fascial/Dental Therapy, San Baio acupressure, KaTaSee Traditional (Shamanic) Healing and Balancing, and Life Coaching. I share wisdom gleaned from my eclectic life experience and my ongoing healing journey. I stay up to date on my training, always learning new skills to bring to your session. Learn more.



"I so much appreciate the work you do, your lovely attitude, the openness of doing what ever is necessary, be it BodyTalk or Craniosacral Fascial Therapy." — H.N.C.
-

Read more client success stories