Jenna Caplette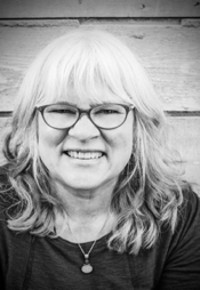 Biography
What's the most challenging health issue you're facing right now?
Rather than address you as a collection of parts and pieces, sessions with Jenna Caplette, LMT, address you as a whole-person, including emotional, physical, environmental, spiritual & ancestral influences, so that the underlying causes of dis-satisfaction and dis-ease can be balanced and understood.

Sessions create a conversation with your bodymind, weaving BodyTalk with Ortho-Bionomy, Craniosacral Fascial/Dental Therapy, San Baio Acupressure, KaTaSee Traditional Healing and Balancing, and wisdom honed by a living a full life. Experience a greater sense of physical and personal well-being, along with improved relationships with self and others.
Jenna began her healing journey
Jenna began her healing journey as soon as she felt the freedom to do so by focusing in Native American Studies at US Santa Cruz in the 1970's. UCSC's Community Studies program required her to complete field study and write an undergraduate thesis. She lived on the Crow Reservation for 6 months; worked on a how-to manual for traditional crafts for the local 4-H program; hung out with the two ladies at the Crow Arts & Crafts Cooperative; learned to bead and listened to stories. She took my first sweat and promptly drove her VW bug into a ditch.

Two years later Jenna married a Crow Indian. Their daughter has Down's Syndrome so she has had a crash course in resisting constraining diagnosis — thus beginnning a life-changing healing journey for herself and her daughter. She owned a retail business in Downtown Bozeman and mentored many young women on their journey. On closing the store, she trained to become a life coach, committed to training in KaTaSee Traditional Healing and Balancing and began to take seriously becoming a healing arts practitioner.




She was introduced to BodyTalk by a PT who had learned just a couple techniques and experimented on her during a session. The Cortices brain-balancing technique was a life changing experience. She couldn't wait to learn more. Already a Certified Ka Ta See Traditional Healing and Balancing Practitioner, BodyTalk offered a more mainstream option for energy healing and balancing. Jenna was attracted to it's breadth, it's simplicity and complexity — and to being able to comfortably present herself as a Healing Arts practitioner while working in the criminal justice system in Gallatin County, Montana.




She has a passion for helping people become more present in their own lives and bodies, for helping them to remember what it feels like to be them. She is in awe of our healing capacity, and how different what one person's healing from a particular condition might be from another person's with the same condition.She never gives the same session twice — each session is completely tailored to the client in that moment.





"I so much appreciate the work you do, your lovely attitude, the openness of doing what ever is necessary, be it BodyTalk or Craniosacral Fascial Therapy." — H.N.C.
-

Read more client success stories



BodyTalk
A life long learner, Jenna continues to attend trainings in order to provide the best in holistic healthcare.

Of 51 BodyTalk Trainings attended, 18 were taught by BodyTalk founder Dr. John Veltheim, six of those in person.

Most Ortho-Bionomy coursework has been completed with first-generation instructors who studied with the founder, Dr. Arthur Lincoln Pauls (deceased). Jenna studied Craniosacral Fascial Therapy with the founder, Dr. Barry Gillespie. She trained in Life Coaching when the founder of the coaching process, Thomas Leonard, was still alive and studied with him.

Jenna has completed all advanced BodyTalk workshops, as well as PaRama 1 & 2 and other specialized electives. She often repeats courses to strengthen her rapport with the techniques taught. See more about her education & training.
BodyMind Spirit Healthcare: If not now, when?